A cluttered and disorganized garage can be a source of frustration for many homeowners.
Finding the right tools, equipment, or even holiday decorations can become a daunting task.
If you're facing this issue, Rubbermaid cabinets for the garage might just be the solution you've been searching for.
In this comprehensive guide, I will take you on a journey through the realm of Rubbermaid garage cabinets,
We will dive deep into the various types of Rubbermaid garage cabinets available, dissect their unique features, highlight the practical benefits they offer, and equip you with the knowledge to make an informed choice when selecting the ideal cabinet for your specific requirements.
What are Rubbermaid Garage Cabinets?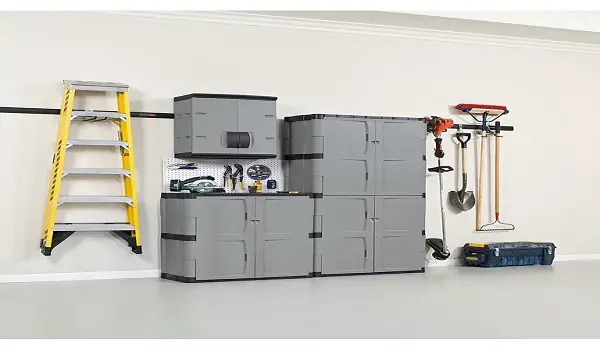 Rubbermaid garage cabinets are specially designed storage solutions that offer a convenient and organized way to store your tools, gardening equipment, sports gear, and more.
These cabinets are known for their durability, weatherproof construction, and lockable features, making them the ideal choice for garage organization.
You may also like:
Why are They a Good Choice for Garage Storage?
Rubbermaid cabinets for the garage are a smart choice for several reasons.
First and foremost, they are built to withstand the harsh conditions typically found in garages.
Their weatherproof design ensures that your belongings remain safe and dry even in challenging environments.
Moreover, the lockable feature provides an added layer of security, protecting your valuable tools and equipment from theft.
Types of Rubbermaid Garage Cabinets
When it comes to organizing garage, Rubbermaid offers a diverse range of cabinet options to cater to various storage needs. Let's delve deeper into each type:
1. Freestanding Cabinets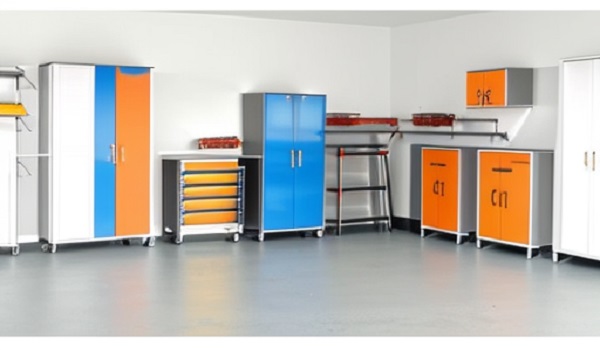 Freestanding cabinets are a versatile storage solution that stands on its own, quite literally.
These cabinets offer mobility and flexibility in organizing your garage. Their standalone nature means you can easily reposition them as your storage needs change or when you want to optimize the layout of your garage.
These cabinets often come with multiple adjustable shelves, providing ample space for storing a wide array of items, from power tools to gardening equipment.
Their durability ensures that your belongings are well-protected, and their robust design can withstand the rigors of a garage environment.
Whether you need a designated spot for your automotive supplies or a secure home for your DIY tools, freestanding Rubbermaid cabinets have you covered.
Pros: Versatile, can be moved around, stackable, durable, weather-resistant, lockable
Cons: Can be heavy, more expensive than plastic cabinets
Price: $100-300+
Specs: Shelf capacity up to 200 pounds, weight capacity up to 600 pounds, dimensions vary by model
2. Wall-Mounted Cabinets
If you're dealing with limited floor space in your garage, wall-mounted cabinets are the perfect solution.
These cabinets are designed to be mounted on your garage walls, freeing up valuable floor space while providing efficient storage.
Wall-mounted cabinets are an excellent choice for homeowners who want to maximize their garage's potential by utilizing vertical space.
These cabinets often feature adjustable shelves and interior compartments, making it easy to organize and access your tools and equipment.
The advantage of having items at eye level cannot be overstated – it saves you from constantly bending down or rummaging through cluttered shelves.
Wall-mounted Rubbermaid cabinets combine convenience, space efficiency, and organization into one tidy package.
Pros: Space-saving, durable, weather-resistant, lockable
Cons: Permanently mounted, can be difficult to install
Price: $100-300+
Specs: Shelf capacity up to 150 pounds, weight capacity up to 300 pounds, dimensions vary by model
3. Drawer Cabinets
When it comes to storing smaller tools, hardware, and accessories, drawer cabinets shine.
These cabinets feature multiple drawers of varying sizes, allowing you to neatly organize your items for quick and easy access.
Whether it's screws, nuts, bolts, or hand tools, drawer cabinets keep everything within arm's reach and well-organized.
The drawers are often built with a robust glide system for smooth opening and closing, even when fully loaded.
This feature ensures that your tools remain in excellent condition and are always ready for use.
Drawer cabinets are a must-have for anyone who appreciates the value of a well-organized and easily accessible tool collection.
Pros: Keeps tools and accessories organized and within reach, durable, weather-resistant, lockable
Cons: Can be more expensive than plastic drawers
Price: $50-200+
Specs: Shelf capacity up to 50 pounds, weight capacity up to 100 pounds, dimensions vary by model
4. Workbench Cabinets
A workbench cabinet is the epitome of functionality in a garage. These cabinets combine storage with a sturdy work surface, providing a dedicated workspace for your projects.
Whether you're into woodworking, automotive repairs, or DIY crafting, a workbench cabinet is a versatile and space-efficient solution.
These cabinets often include spacious drawers, shelves, and pegboard panels, allowing you to keep your tools and materials organized and accessible.
The sturdy work surface can withstand heavy-duty tasks, making it a reliable companion for any project.
With a workbench cabinet, you can have all your tools and workspace in one convenient location, making your garage a hub of productivity.
Pros: Provides both storage and a workspace, durable, weather-resistant, lockable
Cons: Can be heavy, more expensive than plastic workbenches
Price: $200-500+
Specs: Shelf capacity up to 200 pounds, weight capacity up to 600 pounds, dimensions vary by model
5. Shelving Units
When you need to store larger items such as storage bins, paint cans, or bulky equipment, Rubbermaid shelving units are the answer.
These units are designed to provide open storage for items that may not fit well inside cabinets.
They offer a practical and straightforward solution for keeping your garage tidy and your larger belongings easily accessible.
Rubbermaid shelving units come in various sizes and configurations, allowing you to customize your storage to fit your specific needs.
The robust and durable construction ensures that these units can withstand the weight and wear and tear associated with garage storage.
Whether you're organizing camping gear, sports equipment, or seasonal decorations, Rubbermaid shelving units provide a dependable solution.
Pros: Durable, weather-resistant, stackable
Cons: Can be difficult to assemble
Price: $50-200+
Specs: Shelf capacity up to 200 pounds, weight capacity up to 600 pounds, dimensions vary by model
Read Also: Best Garage Cabinet Paint Ideas
Features and Benefits of Rubbermaid Garage Cabinets
Rubbermaid garage cabinets come with a host of features and benefits:
Durable and Weatherproof: These cabinets are built to last, resisting wear and tear while protecting your belongings from the elements.
Lockable: Secure your valuable tools and equipment with the peace of mind that comes from knowing they are protected.
Adjustable Shelves: Customize the interior of your cabinets to accommodate various item sizes and shapes.
Versatile Design: Rubbermaid garage cabinets are designed to adapt to your storage needs, making them suitable for a wide range of items.
Easy to Assemble: With straightforward assembly instructions, setting up your Rubbermaid cabinet is a hassle-free process.
Affordable: These cabinets offer an excellent balance of quality and affordability, ensuring you get the most value for your money.
How to Choose the Right Rubbermaid Garage Cabinet for Your Needs
Selecting the perfect Rubbermaid cabinet for your garage involves a few key considerations:
Size and Layout of Your Garage: Take measurements and assess the layout of your garage to determine the available space for cabinets.
What You Need to Store: Make a list of the items you intend to store in the cabinet to help you choose the appropriate type and size.
Material and Finish: Consider the material and finish that will best complement your garage's aesthetic while providing the necessary durability.
Set a Budget: Determine how much you're willing to invest in garage cabinets, keeping in mind that Rubbermaid offers a range of options to fit different budgets.
Conclusion
Rubbermaid cabinets for the garage are an excellent investment for anyone looking to transform their cluttered space into an organized and efficient workspace.
With their durability, weatherproof design, lockable features, and versatility, these cabinets provide a winning solution for garage storage needs.
By following our guidelines on selecting the right cabinet for your space, you can enjoy a well-organized garage that enhances your productivity and peace of mind.
Visit our website to explore Rubbermaid garage cabinets and start your journey to a more organized and efficient garage today. Rubbermaid cabinets for garage – the key to hassle-free organization!