Are you tired of the constant frustration of looking for tools, sports equipment, and other essentials in a messy and disorganized garage?
Look no further! Garage Slatwall is the revolutionary solution you need to transform your garage into a well-organized space that offers easy access to your belongings.
In this article, we will tell you the amazing benefits and features of garage slatwall systems. Get ready to say goodbye to clutter and embrace the efficiency and functionality that a slatwall garage brings!
Understanding Garage Slatwalls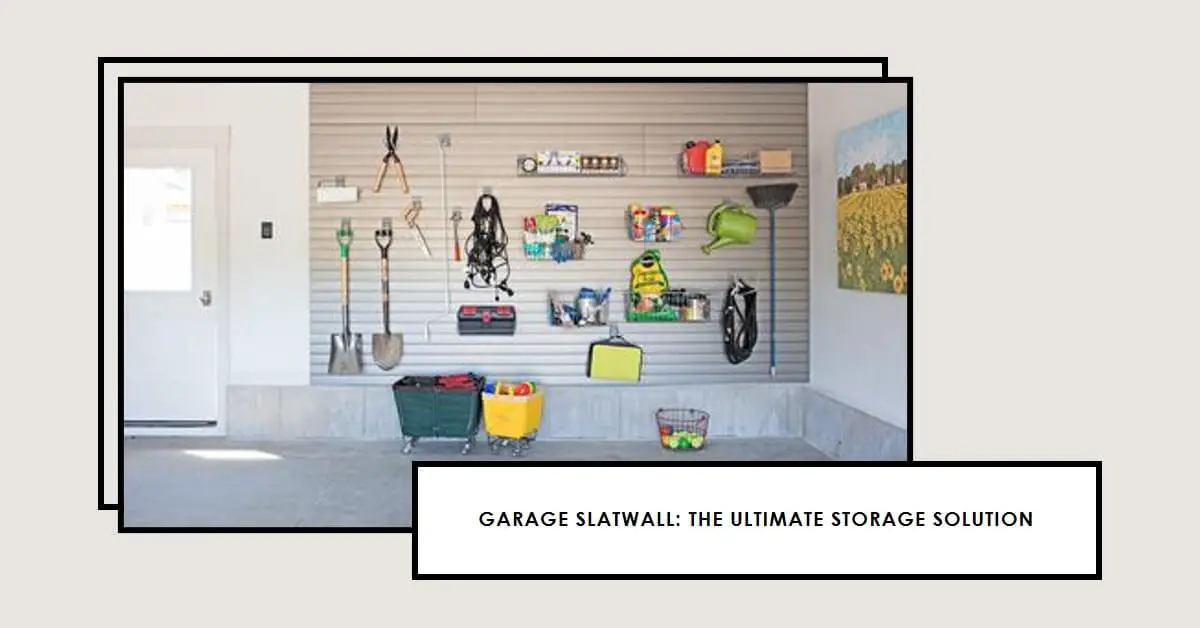 What is garage Slatwall?
Garage Slatwall is wall-mounted panels made of durable materials like PVC or metal. They feature horizontal grooves or slots that allow for the attachment of various storage accessories.
These panels provide a versatile solution for organizing and storing items in your garage, including tools, equipment, and other belongings.
How do garage slat walls work?
Garage Slatwall work by utilizing specially designed hooks, brackets, and shelves that fit into the slots on the panels.
These accessories can be easily rearranged or removed, allowing you to customize the storage layout according to your needs.
By utilizing the vertical space on your garage walls, slat walls help optimize storage capacity while keeping items easily accessible.
Benefits of Using Garage Slatwalls
Improved Storage Capacity
One of the primary reasons why garage slatwalls have gained immense popularity is their ability to significantly increase storage capacity.
By efficiently utilizing the often-neglected vertical wall space, these ingenious systems allow you to store and organize your tools and belongings with ease.
Imagine finally having a designated spot for your bicycles, ladders, and garden tools, freeing up precious floor space and eliminating clutter. With garage slatwalls, everything finds its place, and locating your essentials becomes a breeze.
Easy Accessibility
Having a slatwall system in place means that your frequently used items are always within arm's reach. Say goodbye to the frustrating experience of rummaging through piles of boxes or sifting through disorganized shelves.
With garage slatwalls, your tools and equipment are neatly displayed and easily accessible. The beauty lies in the accessories attached to the slatwall panels, which can be effortlessly rearranged to ensure that the tools you need are readily available whenever you require them.
Picture a garage where every tool has its designated spot, enhancing both efficiency and peace of mind.
Enhanced Aesthetics
Garage slatwalls not only offer incredible functionality but also contribute to the overall aesthetics of your garage. As someone who appreciates the value of a visually appealing space, I was delighted to discover the wide range of slatwall panel options available.
These panels come in various colors and finishes, allowing you to choose the ones that perfectly match your garage's existing décor.
Whether you prefer a sleek and modern look or a more traditional style, garage slatwalls provide a clean and organized appearance, instantly transforming your garage into an inviting and visually pleasing area.
Flexibility and Customization
One of the standout features of garage slatwalls is their exceptional flexibility and customization options. Our storage needs tend to evolve over time, and having a storage solution that can adapt is invaluable.
Garage slatwalls offer precisely that. As your inventory of tools and equipment changes, you can easily reconfigure the accessories on the panels to accommodate new items or different arrangements. Need additional shelves for your growing collection?
No problem. Require extra hooks or specialized holders? Garage slatwalls have got you covered. This adaptability ensures that your storage solution remains versatile and perfectly tailored to your evolving needs.
Creative Ways to Utilize Garage Slatwalls
Let's explore some creative ways to maximize the potential of your garage slatwalls and unlock a world of possibilities:
1. Create a Workstation: Your Productivity Hub
Why not turn a section of your garage into a dedicated workstation? With a garage slatwall system, you can attach a sturdy workbench and hang your most frequently used tools within easy reach.
Imagine having a designated space where you can tackle projects, indulge in hobbies, or simply have a handy surface for repairs.
Install shelves above the workbench to store reference books, manuals, or frequently accessed items. This workstation will become the heart of your garage, where creativity and productivity thrive.
2. Design a Gardening Corner: Green Thumb Haven
For the gardening enthusiasts among us, garage slatwalls can be a game-changer. Create a dedicated gardening corner by utilizing specialized slatwall accessories.
Hang your gardening tools, gloves, and watering cans on hooks for easy access. Install a shelf to display potted plants or use it as a station for seedling trays. With a well-organized gardening corner, you'll have all your essentials within reach, making gardening tasks a breeze.
3. Organize Sports Gear: Victory Over Clutter
Sports equipment can easily become a source of chaos in the garage. With garage slatwalls, you can conquer the clutter and create an organized haven for your sports gear.
Install specially designed slatwall accessories such as ball racks, bat holders, and shelves for helmets or protective gear.
Hang your bikes vertically on hooks to free up floor space. This dedicated sports gear area will not only keep your equipment tidy but also make it easier to grab what you need for your next game or outdoor adventure.
4. Store Automotive Tools and Accessories: Drive in Efficiency
Car enthusiasts and DIY mechanics rejoice! Garage slatwalls provide an ideal solution for organizing automotive tools and accessories. Hang your wrenches, sockets, and screwdrivers on hooks for quick and easy access.
Utilize shelves or baskets to store car care products, such as polishes, waxes, and lubricants. With a dedicated automotive area on your slatwall, you'll have everything neatly displayed, making car maintenance and repairs more efficient than ever.
5. Set Up a Hobby and Craft Area: Unleash Your Creativity
If you have a passion for hobbies and crafts, your garage can be transformed into a dedicated creative space.
Use garage slatwalls to hang bins or baskets for art supplies, ensuring that brushes, paints, and crafting materials are always organized and easily accessible.
Install hooks for scissors, tape, and other frequently used tools. Dedicate shelves to store storage boxes or materials for specific projects. With your hobby and craft area efficiently organized, you'll find inspiration and convenience in every corner.
The 5 Best Garage Slatwall Options for Easy Organization
1. ProSlide Heavy Duty PVC Slatwall Garage Organizer
Are you in search of a heavy-duty slatwall garage organizer? Look no further than the ProSlide Heavy Duty PVC Slatwall Garage Organizer.
This versatile storage system offers a simple and hidden hardware design, allowing you to create a customized look for your garage.
Available in different configurations, you can choose to install a single section or cover an entire wall with these durable PVC slatwall panels.
The ProSlide Heavy Duty PVC Slatwall Garage Organizer provides ample storage space and is ideal for storing various items. From tools to sports equipment, this slatwall system can handle it all.
Its sleek and simple installation makes it suitable for any use be it storage, organization, or decoration.
With this high-quality slatwall panel, you can easily transform your garage into an organized and purposeful space.
2. ProSlat Basic Bundle with Slatwall Panels and Hook Kit
If you're looking for a complete storage solution, the ProSlat Basic Bundle is the perfect package for you.
This bundle includes 10 ProSlat panels that cover an 8-foot by 4-foot section, providing a total of 32 square feet of versatile slatwall storage. The panels are made from 90% recycled material, making them an eco-friendly choice for your garage.
The ProSlat Basic Bundle also comes with a variety of hooks, including single hooks, double hooks, heavy-duty U-hooks, and super-duty U-hooks.
These hooks can hold up to 75 pounds per linear foot, ensuring robust storage capacity. With this bundle, you can create your own workspace, office, or closet space without compromising on aesthetics.
The combination of ProSlat panels and hooks maximizes your garage's usable area, providing efficient and mold-resistant storage solutions.
3. ProSlat Heavy Duty PVC Slatwall Garage Organizer
For workshop storage and more, the ProSlat Heavy Duty PVC Slatwall Garage Organizer is an excellent choice. Each box of this organizer includes ten 4-foot wall panels, offering a four-high by four-long section.
These durable plastic hinge slats are designed to protect your belongings from weather and damage.
The ProSlat Heavy Duty PVC Slatwall Garage Organizer panels are made of double-glazed solid polypropylene, ensuring strength and impact resistance. Whether you need slats for garage organization or shelving applications, these panels are up to the task.
The mounting screws of the panels are strategically placed above the hook cavity, providing maximum strength. With a weight capacity of up to 75 pounds per linear foot, you can rely on the durability and functionality of these slatwall panels.
4. Horizontal Black Slatwall Easy Organizer Panels
For a clean and attractive surface for display items combined with ample storage space, the Horizontal Black Slatwall Easy Organizer Panels are an excellent choice.
This 2 ft by 2 ft panels are made from select MDF board engineered to withstand heavy loads and long-lasting damage. The smooth and reflective laminate finish adds a decorative touch to your garage.
The Horizontal Black Slatwall Easy Organizer Panels feature easy installation and a simple locking mechanism. The panels can be stored flat or hung vertically, making them versatile and convenient to use.
With their flat black laminate finish, these panels are resistant to cracking and damage. Their sleek design and ease of use make them a perfect choice for creating an attractive and functional display in any retail setting.
5. ProSlide Heavy Duty PVC Slatwall Garage Organizer
Panels The ProSlide Heavy Duty PVC Slatwall Garage Organizer Panels offer interlocking panels that can be installed in various configurations to suit your needs.
Each panel is made of high-density PVC, providing strength and durability. With a weight capacity of up to 75 pounds per linear foot, these Slatwall panels can handle heavy items with ease.
The ProSlide Heavy Duty PVC Slatwall Garage Organizer Panels come with a 20-year limited warranty, ensuring their quality and longevity.
These panels are up to 25 times more impact resistant than drywall, making them a reliable choice for garage storage. With ten 8-foot wall panels in each box, you'll have ample space to organize and store your belongings efficiently.
Garage Slatwall Installation Process
Installing a garage slatwall system involves the following steps:
Preparing the garage walls: Ensure the walls are clean and free of any obstructions. Remove existing shelving or hooks if necessary.
Choosing the right slatwall system: Consider the size of your garage, the weight of the items you plan to store, and your preferred material (PVC or metal).
Installing the slatwall panels: Use appropriate hardware to secure the panels to the wall studs. Follow the manufacturer's instructions for precise installation.
Conclusion
With the help of garage slatwall, you can transform your garage from a chaotic mess into a well-organized space where everything has its place.
The versatility, easy installation, and customizable options make garage slatwall a game-changer for storage solutions.
Say goodbye to the frustration of searching for misplaced tools or gear and enjoy the convenience of a clutter-free garage.