When it comes to expanding your home's functionality and storage capacity, a 3 story garage can be an excellent addition.
This comprehensive guide will walk you through everything you need to know about 3 story garages, from understanding what they are to the benefits, challenges, design considerations, costs, permits, and various usage ideas.
What is a 3 Story Garage?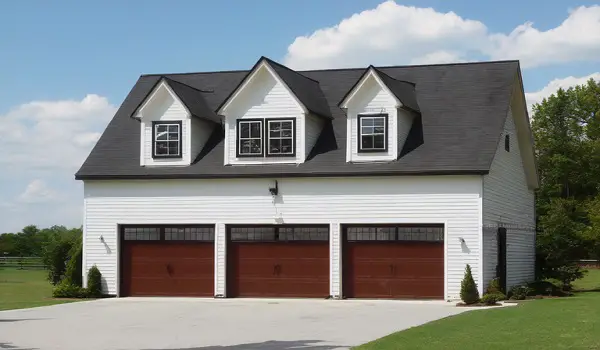 A 3 story garage is a multi-level structure designed to provide ample storage space, living areas, or workspaces on three distinct levels.
These garages are versatile and can be customized to suit a wide range of needs, making them an attractive option for homeowners looking to maximize their property's potential.
Read this: 3 Car Garage Dimensions
Why Would You Want a 3 Story Garage?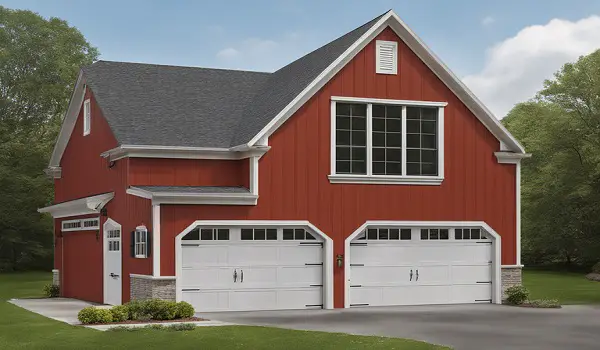 Space Utilization
One of the primary reasons for opting for a 3 story garage is space utilization. It allows you to make the most of your property by providing additional square footage both for storage and various other purposes.
Property Value
Adding a 3 story garage can significantly increase the value of your home. It provides potential buyers with extra storage space or the option to create additional living areas, making your property more appealing.
Versatility
The versatility of a 3 story garage is unmatched. It can serve as a car storage area, living space, workshop, home office, or a combination of these, depending on your needs.
Challenges of Building a 3 Story Garage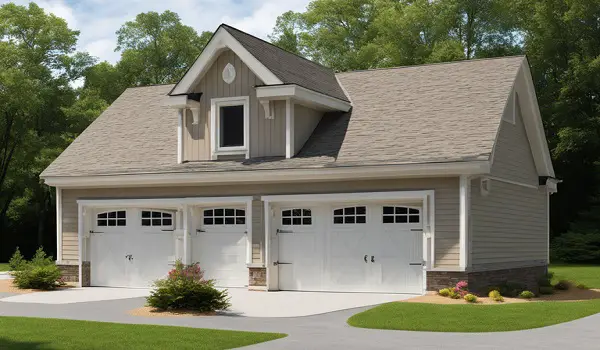 Cost
Building a 3 story garage is a significant investment. The cost can vary widely based on factors such as location, size, materials, and design complexity.
Permits and Regulations
Obtaining the necessary permits and approvals for a 3 story garage can be a complex process. Local building codes, zoning regulations, and homeowner association rules must be adhered to.
Design Considerations
Layout
Consider the layout carefully to ensure the space flows efficiently. Plan for the placement of staircases or elevators and think about how each level will be utilized.
Materials
Choose materials that are not only aesthetically pleasing but also durable and weather-resistant. This is essential for the long-term maintenance of your garage.
Features
Think about the features you want to incorporate, such as windows for natural light, insulation for climate control, and security measures to protect your belongings.
Cost of Building a 3 Story Garage
The cost of building a 3 story garage can range from $50,000 to $200,000 or more, depending on the factors mentioned earlier.
It's essential to obtain multiple quotes from contractors and factor in all potential expenses before starting the project.
Permits and Approvals for Building a 3 Story Garage
Navigating the permit and approval process is crucial. Consult with local authorities and experts to ensure your 3 story garage complies with all regulations. Failure to do so can lead to costly delays and legal issues.
Ideas for Using a 3 Story Garage
Car Storage
The most common use for a 3 story garage is car storage. You can protect your vehicles from the elements while also having space for tools and equipment.
Living Space
Create a cozy living space in your garage, complete with a kitchen, bathroom, and bedroom. This is an excellent option for guests or as a rental unit.
Workshop
If you have a passion for woodworking, crafting, or any other hobby, design your garage to include a well-equipped workshop.
Home Office
In today's remote work era, a 3 story garage can serve as a quiet and separate home office space, away from household distractions.
Other Ideas
Explore other creative possibilities, such as a fitness center, art studio, or a combination of different uses to suit your unique needs.
Conclusion
A 3 story garage is a versatile addition to your property that offers numerous benefits, including increased storage space, added property value, and endless usage possibilities.
It's crucial to carefully plan, budget, and navigate the permitting process to ensure a successful project.
Whether you're looking to create a comfortable living space, a productive workshop, or simply store your vehicles, a 3 story garage can be the perfect solution to meet your needs.
So, if you're considering enhancing your property's functionality and value, think about the endless possibilities a 3 story garage can provide. Invest in your future by investing in a 3 story garage today!