While your garage may be an important storage space, it doesn't mean that you want to spend a lot of money on it. Luckily, there are plenty of inexpensive garage organization ideas out there that can help you keep your space in order without spending too much money.
If you're working with limited funds or limited time, you can still make your garage more organized and functional by using some DIY techniques.
The next time you're itching to clean out your garage but don't want to spend too much money, consider one of these five quick and cheap garage organizing ideas instead. All you need is a little motivation and creativity, and you'll be well on your way to an organized garage in no time!
5 Quick and Cheap Garage Organizing Ideas
1) Store Small Items in Jars
Small items tend to get lost in large cabinets. Move nuts, bolts, nails, screws and small power tools into mason jars that have been labeled for easy identification. You'll be able to see everything without having to search through a cluttered cabinet. In addition, you can write on each jar with a sharpie or masking tape for a more professional look. This will make storing small items quick and easy!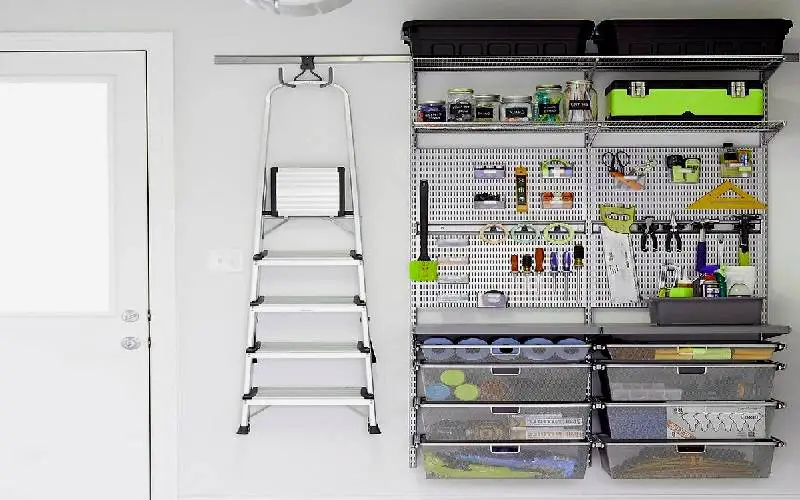 2) Use Baskets To Store Larger Items
If you need to store large items in your garage, consider using baskets on shelves. This is a great way to separate out what you're storing making it easy to find things later. Even better, once you know where everything is located, it's easier to use similar products together.
For example, if all of your tools are in one basket up top with a rubber band around them all…you can actually save room by grouping similar products (screwdrivers and hammers go together) next to each other. Baskets also help prevent dust and dirt from accumulating over time; so long as you keep them organized, they'll make clean-up a breeze!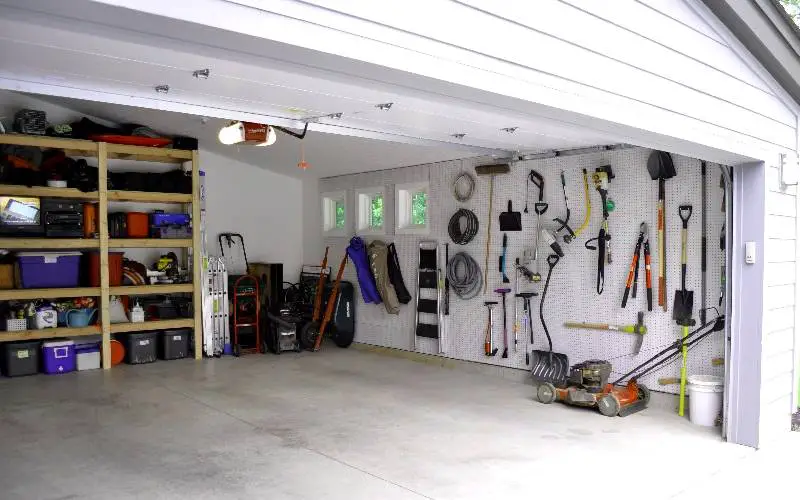 3) Roll Out Drawers For Easy Access
If you're blessed with a large, deep garage, you might consider using every inch of space. You can buy or build some rolling drawers that slide on tracks from IKEA for about $50.
The rolling drawers are available in various sizes; opt for one that is about half as deep as your shelf is wide (i.e., if your shelf is 8 feet long, get a 4-foot drawer). Rolling drawers are an excellent way to organize stuff so it can be pulled out easily instead of having to dig through a box or bag to find what you need.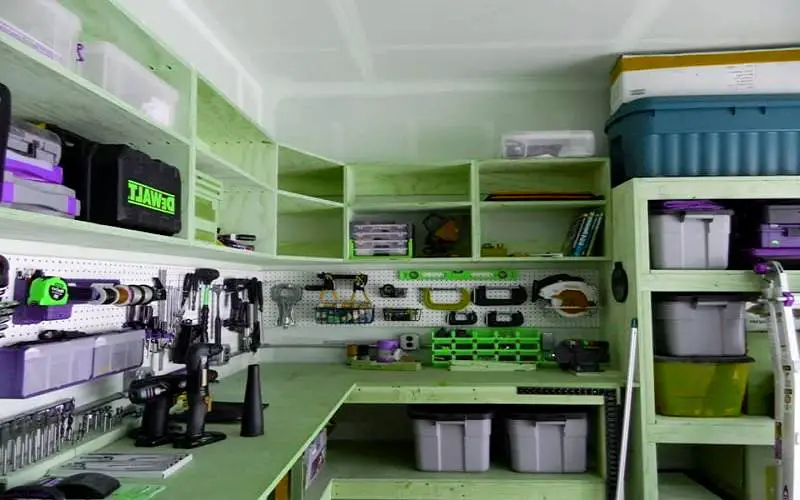 4) Add Hooks for Rope Storage
If you have a few empty walls in your garage, there's no better way to utilize them than by adding hooks for rope storage. Rope has many uses around your home, so you'll want to make sure it's handy when you need it. Simply attach hooks at eye level so that they're easy to grab when they're needed.
You can also use a different color paint or put some tape on each hook so that you'll know which kind of rope is on each hook. This is particularly useful if you don't have many types of rope. Or, if you have several kinds of rope (or chains or wire), use a tiered system with three hooks for each type of item. One might be large, one medium and one small.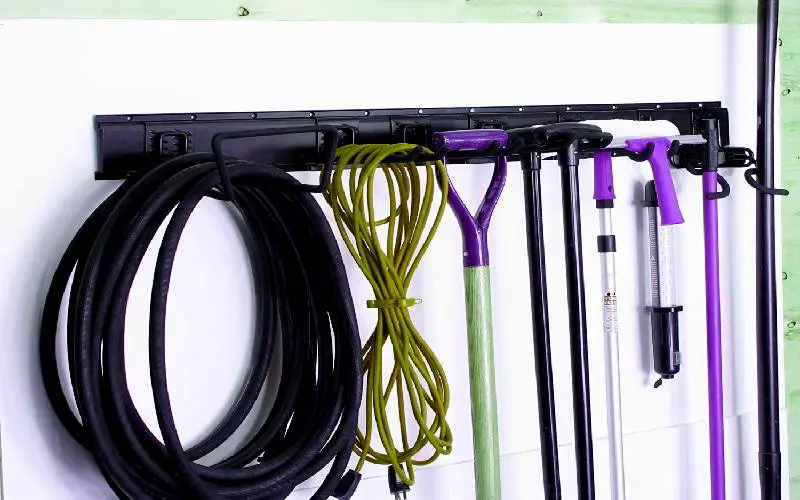 5) Use Pegboards For Small Tools
Pegboards make a great starting point for garage organization. You can use pre-made pegboard panels or make your own out of 1/4 plywood or particle board. Use bungee cords to secure hanging tools to keep them from falling over as you work.
Hooks that fit on standard-sized tool handles are available at any hardware store; just hook them onto your pegboard hooks. A quick way to hang items is with 2 by 2 wooden dowels that have hooks screwed into one end, which can be screwed into pre-drilled holes in your pegboard panels.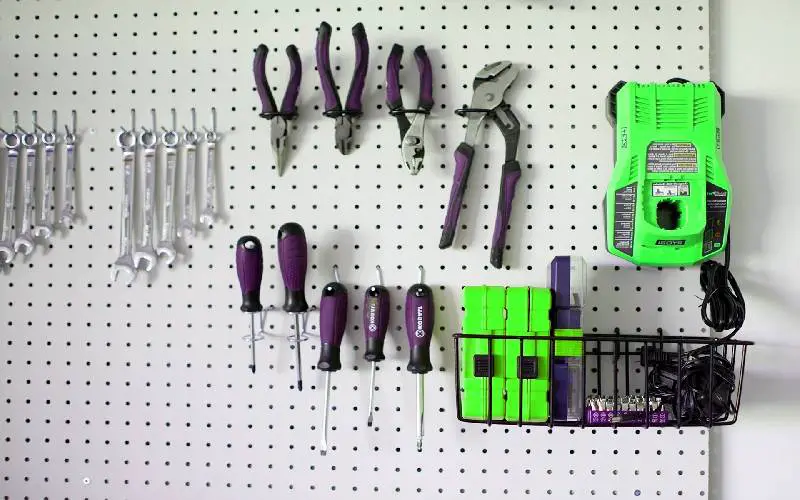 How can I organize my garage for cheap?
For many, our garages are a catch-all for everything we don't know what to do with. This creates clutter that makes it hard to park your car, let alone find things like trash bags or lawn mower blades. To diy garage storage for cheap, start by taking an inventory of what you have.
How can I organize my garage quickly?
No one wants to spend a lot of time organizing their garage, especially if they don't use it that often. The solution? Try some quick and easy organizing ideas you can do in just minutes. (Bonus: They cost next to nothing!) Here are five quick fixes for storing items you want to keep close at hand, but would rather not see on a daily basis
How do I declutter and organize my garage?
When working on your car, you need space to keep parts, tools, equipment and more. But as soon as you're done with a project or want to clean up for a party, your garage becomes cluttered again. Luckily, there are plenty of ways to declutter your garage so that you can find everything in one place. Here are five ideas for getting started
How can I organize cheaply?
If you're looking to get organized but not spend a lot of money, here are 5 quick and cheap garage organizing ideas. None of these require you to spend a fortune on fancy products; some are even free! You can start small if you have limited time or space. And by applying just one or two at a time, you can achieve your dream garage in no time!
How can I make my garage look nice?
It's a space you have to walk through when you get home, so you don't want it to be an eyesore. Here are some cheap ways to make your garage look nice: paint (or add wallpaper), add shelves or hooks for hanging things, clean up clutter.
Do some of these things slowly over time. You can't just whip out a roller one weekend and have everything covered it needs to happen slowly, over time. It also helps if you have a storage system in place before trying to organize it you need bins, drawers or other containers that will allow items in your garage to be properly sorted by how they're used.
What should not be stored in a garage?
It may seem obvious, but not everything belongs in a garage. If you're not careful, you can find yourself storing things that were never meant to be stored outside of an attic or basement like couches, beds and patio furniture.
Exposing these items to moisture is a sure way to invite mold or mildew. Instead, store those items inside (or get rid of them). Also keep chemicals out of your garage; they are inherently toxic and should be kept as far away from foodstuffs as possible.
And don't let any pets hang out in your garage; critters can easily chew through cardboard boxes containing toys or other treats for your fur babies that could spill when stacked on top of one another inside a poorly ventilated space like a garage.