Are you looking for a way to revamp your garage and add some style to your home's interior? Look no further than durable and stylish garage paint colors. Whether you want a bold statement or a subtle change, the right paint color can make all the difference in the overall look and feel of your garage. Not only will it enhance the aesthetic appeal, but it also protects your garage from the elements and prolongs its lifespan.
Tips for Choosing The Right Paint for The Garage Theme
Just like when choosing design colors for a room in a house when it was first built or renovated, choosing garage paint colors also needs to be considered so that it looks clean and neat. If the color selection for the garage theme is made haphazardly, you might regret it when looking at the finished design of your garage.
Here are tips on choosing garage paint ideas to make your garage look attractive and aesthetic.
1. Choose Design Colors That Match With Other Elements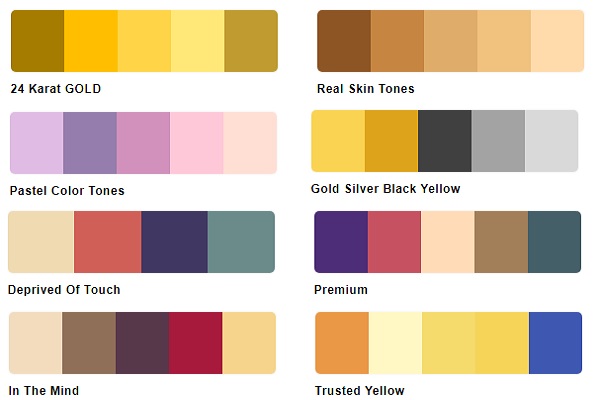 Building a garage or renovating it will require a top-to-bottom design overhaul. If you want a completely different look from the previous one, you may need new floor coverings, cabinets, and maybe a garage door.
To make it look neat and harmonious, choose the right garage paint colors to complement each other with these elements. Or you can also determine the paint color first, then buy these elements with the appropriate color and design choices.
Choosing the right garage paint colors and complementing the existing elements makes your garage more pleasing to the eye. You'll really enjoy looking at it for a long time, and it's a pleasure to visit the garage when you store things or park the car.
2. Garage floor color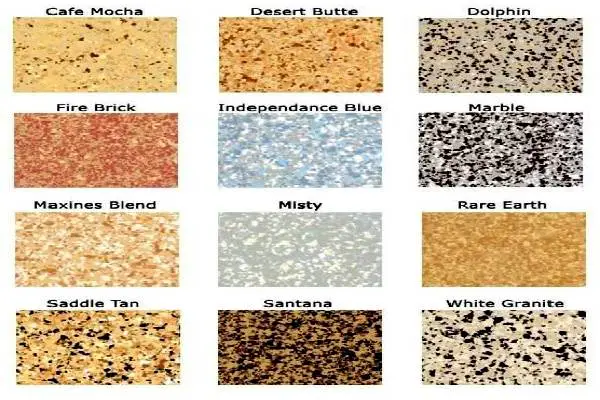 One of the important things in the garage is the floor surface. Because it is used as a parking area and a place to store goods, the surface of the garage floor must be durable.
Apart from choosing the right coating, the right floor garage paint colors can also make the garage more lively and less dirty. You can use high-quality polyaspartic floor coatings that last a long time instead of using epoxy coatings and floor paints.
Also, you can use a floor covering with a polka dot pattern or a stone pattern on the garage floor. Textured floors can also be an effective part of a garage décor for hiding dirt and grime.
3. Garage wall color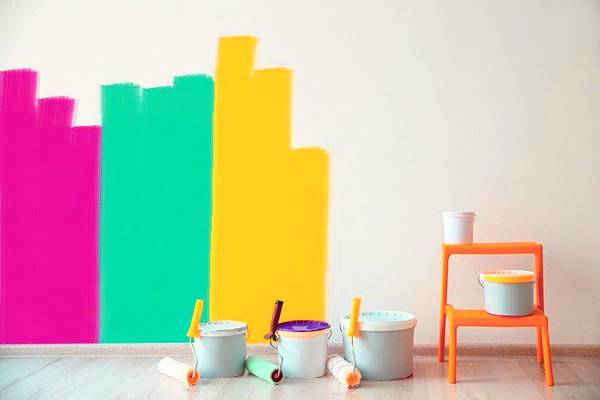 Choosing garage wall colors is the main thing so that your garage looks attractive. Apart from the walls, the paint color for the garage ceiling also needs attention.
You can choose bright garage wall garage paint colors so that the garage looks brighter and supports your garage lighting. If the garage room is bright, this is effective when you park your vehicle or look for items stored in the garage.
Even though bright garage paint colors support room lighting, you need to be careful because choosing bright colors can make the garage look dirty quickly with attached dust. To fix this, you can choose a bright semi-gloss paint color so that the dust that sticks to it is easier to clean.
In addition to bright colors, you can choose a neutral color, such as variations of blue, gray, or beige. These colors will be easier to clean than white. You can also choose a wall paint color that looks relaxed as the main color, such as green, blue or gray.
4. Garage cabinets colors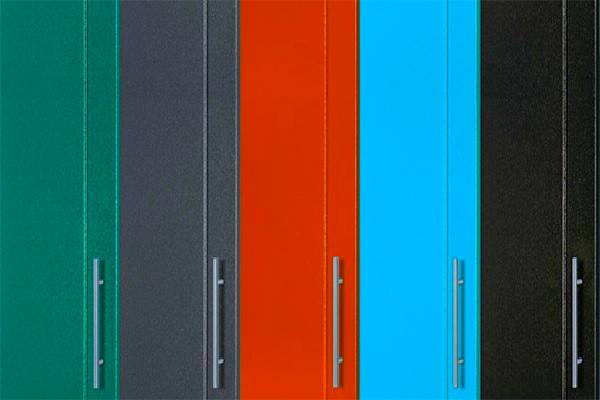 Adding cabinets can increase the aesthetic value of garage paint colors; besides that, cabinets also provide more storage space.
There are several things to consider when choosing a cabinet for the garage, including the cabinet model and also color. Choose models and colors that match the interior garage wall paint colors so that they blend together and complement one another.
If you want to make your wardrobe stand out, use the same color as your car.
5. Garage door color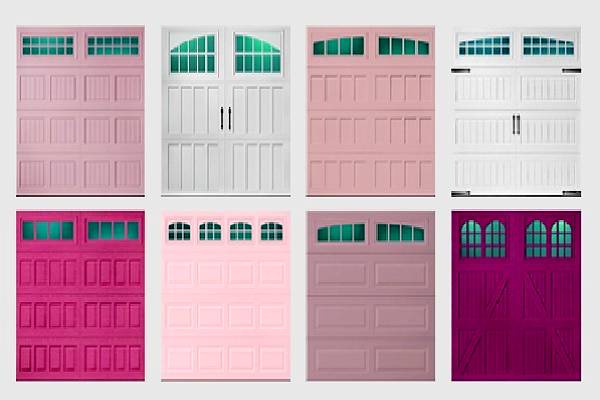 If your garage is large enough to park two cars, the garage door colors will take up at least 30% of the width of the front of the house.
Because of that, the garage paint colors on the door should match the exterior design of your home. However, there are some things that need to be considered:
The front door is the focal point of the house. So, avoid using a similar color between the grey garage door and the house.
Do not use primary colors that seem flashy. Instead, choose a color that matches the walls, brick, or roof of the house.
The 10 Most Popular Garage Paint Colors
Basically, choosing a paint color for a garage only needs to be adjusted to taste. However, some people who have difficulty seeing the aesthetic value of color combinations may be confused.
In choosing good garage paint colors, of course, there are various factors that need to be considered, starting from the combination of basic wall paint, floor color, and supporting furniture colors. Therefore, it is necessary to consider this when choosing a good paint color.
You have to choose paint colors carefully, so you won't regret it when your garage design is finished. If the color selection is correct, you don't have to spend more budget to fix the color discrepancy.
If you still feel confused, here are some recommendations for the best paint colors for garage that will make your garage look even more attractive!
1. White color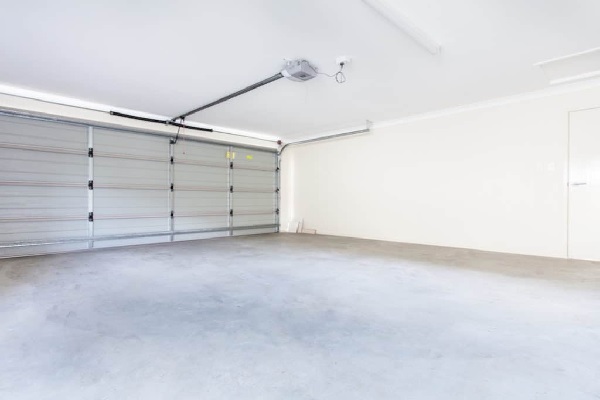 White can be the top choice as one of the garage paint colors. Apart from being bright and making the lighting brighter, white also practically reduces the amount of heat absorbed so that the garage is not easily stuffy and still feels comfortable.
White is also an element that is suitable to be combined with even bright and dark colors because it can balance colors with their contrasting properties if used as a combination.
2. Gray color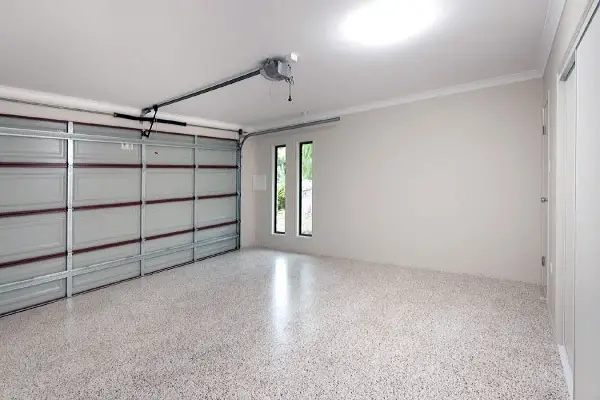 The next color that can be used is gray. If the color you like is dark gray, it creates a mysterious and elegant feeling. You can also choose light gray as garage paint colors because a calm, minimalist impression will be seen and increase the impression of luxury in the garage.
Light gray is able to provide a neutral and aesthetic visual even if you provide some decorations on the garage wall. If you want a more classic minimalist, you can choose a slightly more refreshing lilac gray.
3. Navy color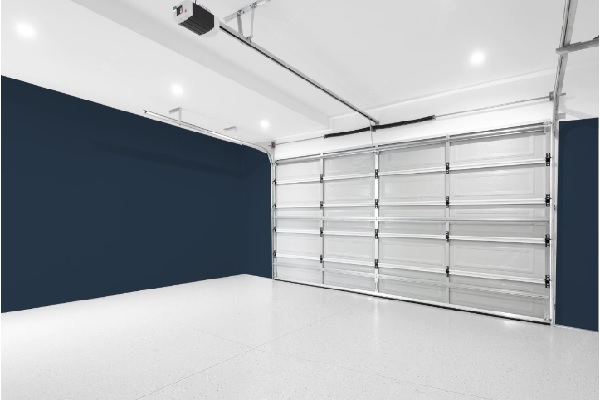 Dark blue or often on the list of recommended paint colors. This navy color is often installed on the walls of the house and can be applied as one of the garage color ideas to the walls of the garage. It will create a minimalist, masculine and mysterious color.
4. Beige color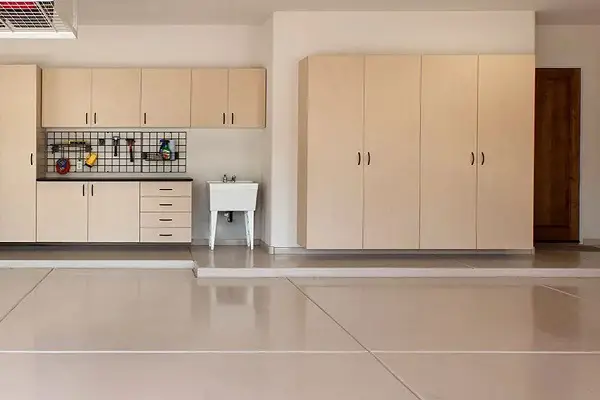 The cool and soft beige color is no stranger to always being included in the range of colors that can be used as garage paint colors. The cream color is no less attractive to be applied to home garage paint. This cream color is considered suitable to be installed in various types or styles of houses whose garages are painted in that color.
5. Black color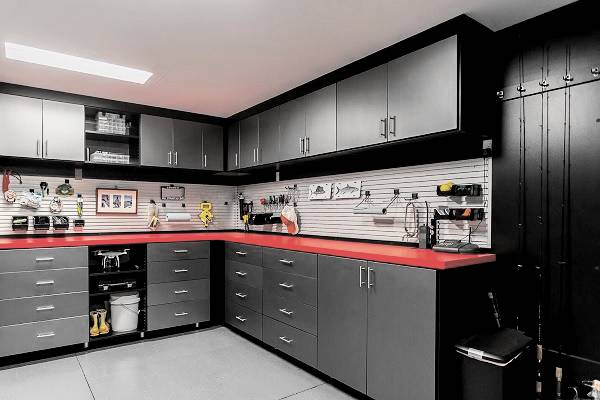 Besides white, black is a color that is often used as a paint color. Despite its dark color, black can give an elegant, dramatic and neutral impression.
In addition, the black color makes it easier to maintain walls and obscures adhering dirt. By choosing black as the color theme for the garage, you don't have to worry about the walls turning dull, which makes them have to be repainted.
So that your garage doesn't look gloomy, you can combine it with other elements in more striking colors. You can put a terracotta-colored cabinet and matching elements.
6. Brown color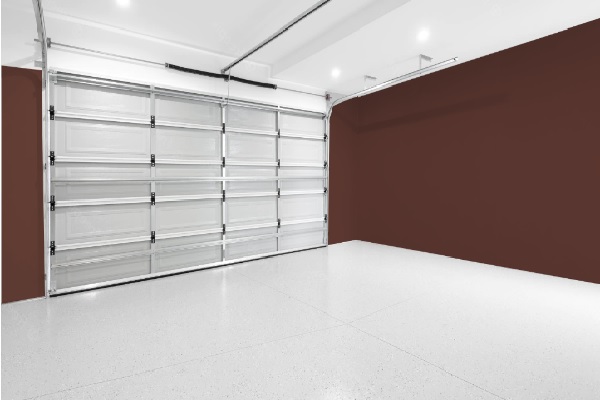 Brown is also often the mainstay of minimalist paint colors because it can be neutral and gives a warm impression to the house. If you don't really like plain ones because they look ordinary, you can choose brown wood motifs from wallpaper, parquet, or natural wood paint.
A very dark brown color can also be a good wall friend for the paint colors. Don't be afraid your garage will look gloomy because dark brown is very beautiful when exposed to white or yellow light.
7. Pastel colors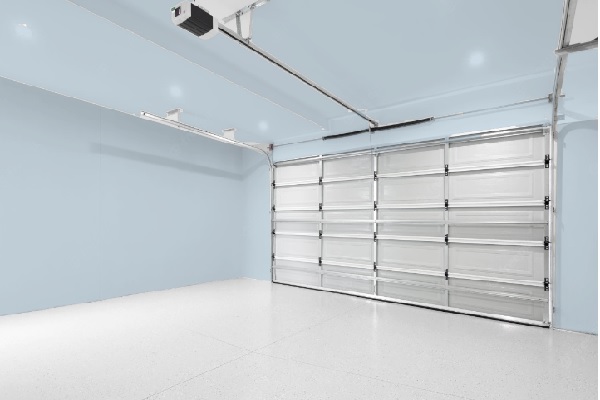 Pastel colors are definitely beautiful as the main concept of garage paint colors. Try choosing beautiful pastel colors like pink or light blue; choose one of them as you wish. To give a girly impression, you can choose pink, or for a neutral atmosphere, you can choose light blue.
Bright blue colors like sky blue are also considered to attract the attention of passers-by because they give the impression of being cheerful but not excessive. This color is also always beautiful paired with red brick material as a balance.
In addition, the pastel light blue color is believed to be able to liven up the atmosphere of the house. Moreover, it is used as a house garage paint which is generally the first point of view when looking at a house.
8. Yellow color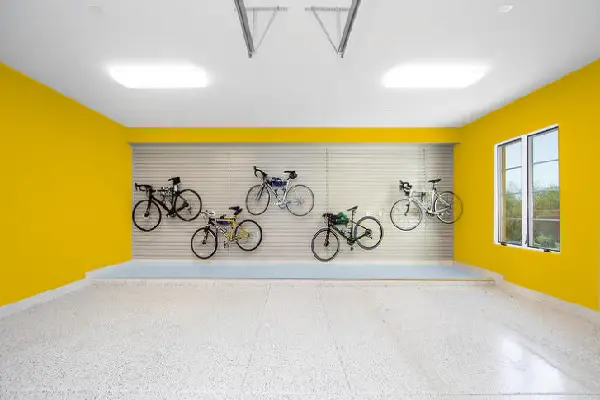 Some people think that yellow is an exaggerated color when used as the main color for walls. But make no mistake, yellow is also suitable for the paint colors of the garage.
The color yellow is a bright color that will give the impression of cheerfulness and enthusiasm and, therefore, the attraction of every eye that sees it.
To overcome the impression of a yellow color that is too flashy, try choosing a yellow that is relatively soft and not vibrant. Choose only one type color of yellow, so it doesn't look too much because yellow already attracts attention.
9. Lavender color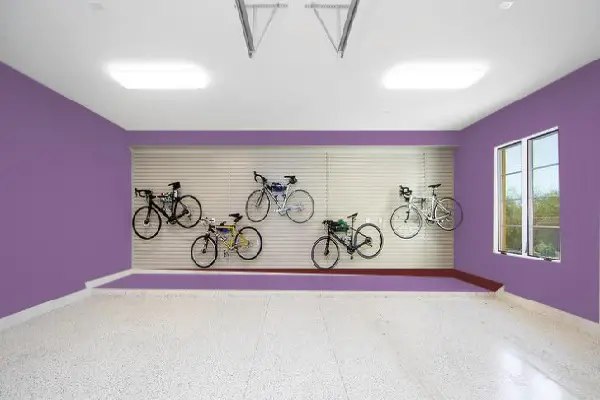 Lavender is a pale tint of purple color. It is a light and delicate shade that is often associated with spring and summer. The color lavender is often used in home decor, fashion, and gardening. It is a popular color for bedrooms, bathrooms and living rooms as it is calming, soothing and can create a sense of tranquility.
In terms of paint color for a garage, lavender may not be a popular choice as it is not a neutral color and may not blend well with many home exteriors or neighborhoods. However, if you want to make a statement and create a unique look for your garage, lavender could be an option for you. It's important to keep in mind that choosing a less conventional color for a garage will require more frequent touch-ups and maintenance.
10. Coral color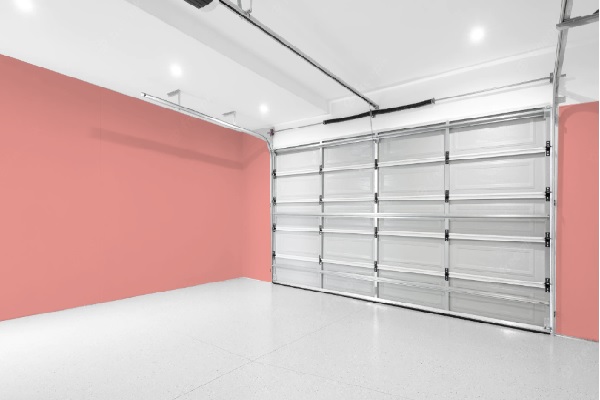 The coral color is an orange or red color. This color is being loved as a house wall paint. Even though it looks striking and bold, coral color can still exude the attractive side of a house, and garages are no exception.
A garage is a place that is usually the first thing to see when someone enters the home area. Therefore, coral color can add to the attractiveness of someone when visiting your home.
This mix of dark orange and pink has indeed become a trend in recent years because it has a cheerful and warm nature. In addition, the color, which is quite girly, is also considered to radiate enthusiasm.
Color Combinations for Garage Design
So that your garage paint colors theme is not monotonous, you can combine the main color with one or more other colors. Through the right color combinations, your garage can produce fresher and more attractive colors. You have to adjust the colors of this combination so that they look suitable for each other.
You can make garage color combinations on the walls or put color combinations on the floor. You can also choose a wardrobe cabinet color that can complement or make the color stand out more than the main color.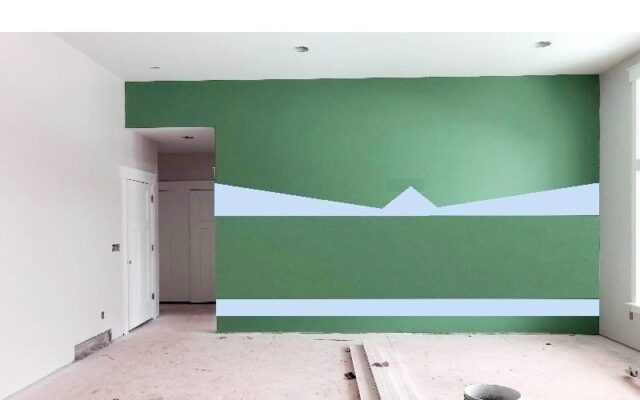 Here is a color combination that is suitable for application in your garage.
1. The combination of white with other colors
As the basic color that has the brightest color, white can be combined with many colors. You can combine white in your garage with other bright colors or darker colors.
White color combination with black
White color combination with yellow
White color combination with pink
White color combination with grey
White color combination with blue
White color combination with turquoise
White color combination with orange
White color combination with beige
White color combination with purple
2. The combination of black with other colors
Black is the darkest color to be used as the wall color. If it's standing alone, your garage paint colors will look gloomy.
You can combine it with bright colors or stuff that looks striking.
Black color combination with white
Black color combination with blue
Black color combination with gold
Black color combination with lavender
Black color combination with yellow
Black color combination with green
Black color combination with pink
Black color combination with turquoise
Black color combination with orange
Black color combination with light grey
3. The combination of light grey with other colors
Light gray is a color that looks neutral and bright enough to be used as a wall paint color. To make it look more varied, combine light gray with the following colors:
Light Gray color combination with white
Light Gray color combination with blue
Light Gray color combination with black
Light Gray color combination with red
Light Gray color combination with yellow
Light Gray color combination with green
Light Gray color combination with pink
Light Gray color combination with turquoise
Light Gray color combination with orange
Light Gray color combination with beige
4. The combination of beige with other colors
Even though beige is a calm and neutral color, you need to be careful when combining beige with other colors. If the combined colors don't match, the resulting design will be unsightly.
Here are the colors that go well with beige.
Beige color combination with white
Beige color combination with yellow
Beige color combination with brown
Beige color combination with pink
Beige color combination with green
Beige color combination with grey
Beige color combination with orange
5. The combination of brown with other colors
Chocolate is associated with warmth, comfort, humility, conventionality, and excitement. The brown paint color for your garage can be applied to any color.
So, to determine what colors are suitable to be combined with brown in the garage, consider the following brown color combinations!
Brown color combination with white
Brown color combination with fuschia
Brown color combination with blue
Brown color combination with turquoise
Brown color combination with yellow
Brown color combination with orange
Brown color combination with mint
Brown color combination with gold
Brown color combination with black
Brown color combination with grey
6. The combination of yellow with other colors
Not many people dare to be creative with yellow as a wall paint color because it is considered too flashy. Even if you know the right combination of yellow with other colors, your garage can be very attractive.
Yellow color can also be presented through other elements in the garage, not only for walls but also floors, cabinets, and garage doors.
So, to determine what colors are suitable to be combined with yellow in the garage, consider the following brown color combinations!
Yellow color combination with turquoise
Yellow color combination with turquoise
Yellow color combination with black
Yellow color combination with green
Yellow color combination with grey
Yellow color combination with white
Yellow color combination with pink
Yellow color combination with blue
Yellow color combination with brown
Yellow color combination with grey
Yellow color combination with purple
Proper Garage Lighting Matches the Paint Color
After knowing how to choose the right color for the garage and determine what color you will use, make sure the lighting in your garage matches the color of the garage design you choose.
Don't let your garage paint colors be dark; you install a lamp that has less lighting so that your garage will look gloomy.
Then how can lighting affect paint color?
Often the appearance of the color on the wall looks different when compared to the colors in the catalog or paint samples. Of course, this can confuse expectations, and this phenomenon is quite confusing for many people. This phenomenon is called metamerism.
Metamerism is a color change due to exposure to the light spectrum. For example, the white color on clothes can change color when exposed to red, yellow, or blue artificial light. Whereas on colored media (not white), exposure to colored light can change color according to changes in the color spectrum.
The worst effect of mixing colors is that the colors in the media area look dark, dull, or cloudy. This is a consideration in choosing colors related to color changes in natural and artificial lighting.
To avoid the phenomenon of metamerism, choose the right type of lamp so that the lighting matches the color of your garage wall paint.
Here are the types of lights that you can choose so that the color of your garage paint doesn't change when exposed to light.
1. Incandescent lamps
Incandescent bulbs produce a warm amber light. This type of lamp can strengthen the color in a room that is red, yellow, or orange. The blue or green color will look pale or even dull dark.
2. Fluorescent Lamp
In general, fluorescent lamps produce bluish-white light, so they are suitable for blue or green rooms. However, there are special types of fluorescent lamps that can produce warmer colors but not as well as incandescent bulbs.
3. Halogen lamp
Halogen lamps have strong lighting levels that mimic natural lighting. The color of halogen lamps tends to be white and does not really affect the color change on the walls of the room when compared to other types of lights. But even so, sometimes, this type of lamp can strengthen colors in cold colors.
So, basically, you have to consider the garage paint color design from many sides. From the main paint color for the walls, the color combination with other elements, and the lighting, you have to choose correctly so that the results are attractive.
You can also choose paint colors that match and complement each other with the color design of your home. Or, if you want a color that matches your personality or your favorite color, there's nothing wrong with trying it.
If you have a bigger budget, you can ask an expert help to arrange your garage paint colors and designs.