In the world of interior design and home decor, colors play a pivotal role in setting the tone and atmosphere of a space.
Each year, leading paint manufacturers like Sherwin Williams carefully select a Color of the Year, a shade that encapsulates the prevailing trends, styles, and inspirations.
In 2023, Sherwin Williams has unveiled "Redend Point SW 9081" as their chosen hue. This deep, versatile color promises to redefine the way we decorate our homes.
In this article, we'll explore the alluring aspects of Redend Point and how you can incorporate it into your living spaces.
What is Redend Point?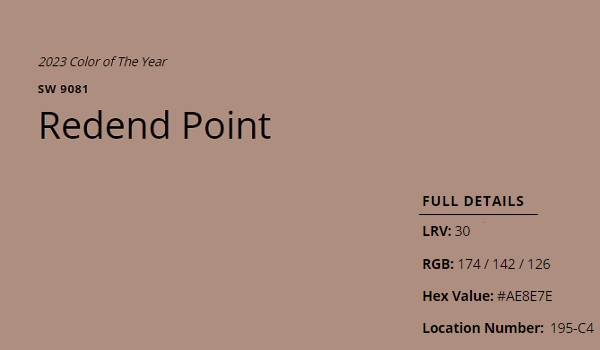 Redend Point SW 9081 is a captivating shade of red with subtle undertones of gray and brown. This deep, rich hue exudes elegance, warmth, and sophistication.
The name "Redend Point" itself carries an air of significance, suggesting a culmination and convergence of style and trends. Its bold yet versatile nature makes it a fitting choice for a wide range of interior and exterior applications.
Key Information
Color of the Year 2023: Redend Point SW 9081
Light Reflectance Value (LRV): 30
RGB Values: 174 / 142 / 126
Hex Value: #AE8E7E
Location Number: 195-C4
Available in: Interior and Exterior
Color Collections: Colormix Forecast 2020 (Heart), Pottery Barn Kids (Fall/Winter), Pottery Barn Teen (Fall/Winter), Colormix Forecast 2023 (Nexus), Colormix Forecast 2024 (the Poetry of Reds & Purples)
Color Family: Red
You may also like: Sherwin Williams 2022 Color of the Year
Why Redend Point?
The choice of Redend Point as Sherwin Williams Color of the Year 2023 is rooted in its ability to evoke a sense of nostalgia while embracing contemporary design trends.
The color brings to mind memories of cozy libraries, timeless leather-bound books, and the rich woodwork of classic homes.
In a modern context, it serves as a bridge between traditional and contemporary design, making it a perfect choice for those who want a timeless yet fresh look.
How to use Redend Point in your home
Now that we've introduced Redend Point, let's delve into the practical aspect of incorporating this intriguing shade into your home.
Complementary Color Schemes
Redend Point pairs beautifully with a variety of other colors. For a classic and timeless feel, combine it with neutral shades like beige, ivory, or gray.
To add a touch of drama, consider pairing Redend Point with deep blue or forest green accents. This color also complements metallics, such as brass or copper, providing a touch of glamour to your decor.
Redend Point Interior Design Ideas
As we explore the fascinating world of Redend Point SW 9081, let's dive deeper into how this versatile and captivating color can transform various spaces within your home.
Garage: Redend Point Reimagined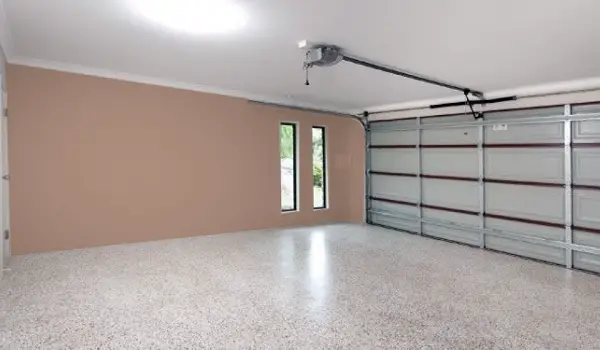 The garage is often an overlooked area when it comes to interior design, but with Redend Point, you can breathe new life into this functional space.
By painting the garage walls or even just the door in Redend Point, you create a remarkable transformation.
The result is not only a beautiful surprise but also an uplifting atmosphere as you step into your garage each day.
For an organized and inviting touch, consider using Redend Point for storage solutions like cabinets and shelves.
The combination of utility and aesthetics can truly make your garage an extension of your home.
Cozy Living Rooms with Redend Point
The living room is the heart of the home, a place where families come together to relax and unwind.
Redend Point brings a unique warmth to this space. Consider painting an accent wall in Redend Point to create a focal point that draws attention and sets the tone for the room.
The contrast between this deep, rich color and the surrounding walls can be visually striking.
Serene Bedrooms Bathed in Redend Point
Your bedroom is your personal sanctuary, and it should reflect your style and create a calming atmosphere.
Redend Point is an ideal choice for bedroom walls, as it evokes a sense of serenity and warmth that encourages relaxation.
The subtle undertones of gray and brown in Redend Point provide a soothing and sophisticated backdrop for modern and traditional bedroom decor alike.
Elegant Dining Rooms with Redend Point
Dining rooms are a place for gatherings, celebrations, and memorable meals. Redend Point can set the perfect mood for these special occasions.
Painting your dining room in Redend Point can transform it into an intimate and elegant space.
This deep, rich color exudes a sense of sophistication and creates a cozy environment for both everyday meals and formal dinners.
Redend Point Exterior Paint Ideas
Redend Point is not limited to interior spaces. It can also enhance the curb appeal of your home.
Front Door: A Redend Point front door is a bold and stylish choice. It welcomes guests with a sense of warmth and elegance.
Exterior Walls: If you're looking for a distinctive and eye-catching exterior, consider Redend Point for your home's facade. It pairs well with natural stone or wood accents.
Redend Point Room Ideas
The versatility of Redend Point means you can use it in virtually any room in your home. From kitchens to bathrooms, home offices to basements, this color can adapt to your style and vision, providing a sense of timelessness and sophistication.
Redend Point Trends and Styles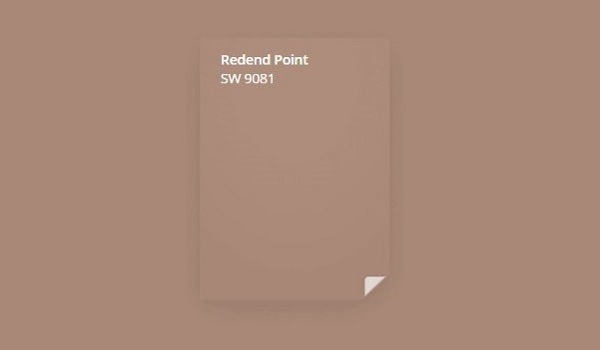 Redend Point represents a fusion of contemporary and traditional styles. Its timeless appeal ensures it won't go out of fashion.
This color is versatile enough to suit a variety of design aesthetics, from classic to modern, rustic to eclectic. It works well in both residential and commercial spaces, making it a top choice for interior designers and architects.
Redend Point Inspiration
If you're seeking inspiration for using Redend Point in your home, look no further than Sherwin Williams' design experts. They offer a wealth of inspiration through online platforms, social media, and their in-store displays.
Moreover, you can explore home decor magazines, design websites, and social media platforms for real-life examples of how Redend Point is transforming living spaces.
In an ever-changing world, Redend Point represents a sense of stability and timelessness in interior design. It's a versatile color that can adapt to various design styles, making it an excellent choice for homeowners and design enthusiasts alike.
Conclusion
Redend Point SW 9081, the Sherwin Williams Color of the Year 2023, is a versatile and stylish hue that can redefine the atmosphere in your home.
Whether you're aiming for a classic, timeless look or a more contemporary and modern feel, Redend Point can adapt to your vision. Its rich, deep red with subtle gray and brown undertones brings warmth and elegance to any space.
So, if you're looking to revamp your living spaces with a touch of sophistication, don't hesitate to consider Redend Point SW 9081 as your go-to paint choice for 2023.
By incorporating Sherwin Williams' Color of the Year 2023, you're not just following the latest trends but making a statement about your unique sense of style and appreciation for timeless design.
Redend Point SW 9081 embodies the enduring qualities of nostalgia and sophistication, which makes it a standout choice for anyone looking to create a home that truly stands the test of time.