In the ever-evolving world of interior design and home decor, paint colors play a pivotal role in shaping the ambiance of your living spaces.
For the year 2022, Sherwin-Williams has unveiled its much-anticipated Color of the Year: Evergreen Fog (SW 9130).
This green-gray paint color has been making waves as a versatile and calming choice for homeowners and designers alike.
2022 Color of the Year: Evergreen Fog (SW 9130)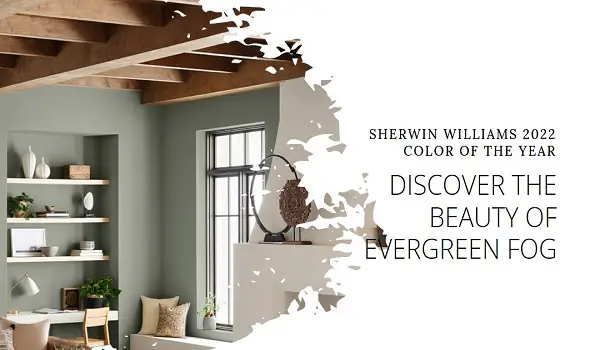 Evergreen Fog, with its subtle and soothing green-gray hue, is a chameleon among paint colors. It effortlessly adapts to various design styles and aesthetics, making it an ideal choice for modern, traditional, or eclectic interiors. Its timeless appeal is evident in its selection as Sherwin-Williams Color of the Year for 2022.
The Rise of Green in Interior Design
Green, a color that symbolizes renewal and growth, is experiencing a significant resurgence in interior design. Evergreen Fog beautifully represents this trend, offering a refreshing take on green that feels both contemporary and classic.
As more homeowners seek to bring elements of nature into their living spaces, green-gray tones like Evergreen Fog become indispensable.
Exploring Evergreen Fog's Best Color Pairings
One of the remarkable qualities of Evergreen Fog is its compatibility with a wide range of colors. Whether you're looking to create a harmonious, monochromatic space or want to experiment with vibrant accents, this versatile green-gray paint color will not disappoint. For a serene ambiance, pair it with soft whites, pale blues, or neutral grays.
Sherwin-Williams' 2022 Paint Color Collection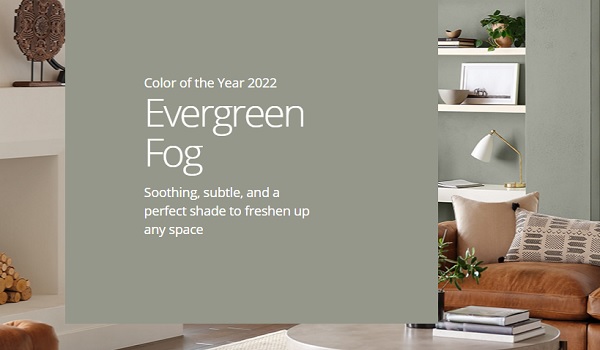 Evergreen Fog is not alone in Sherwin-Williams' 2022 paint color collection. The palette is thoughtfully curated to suit diverse tastes and preferences. From bold and striking hues to soft and dreamy tones, there's something for everyone in this collection.
A Free Paint Guide, Labels, & Organizer Bundle for Your Projects
Sherwin-Williams offers more than just paint; they provide valuable resources to assist you in your painting projects.
With the free paint guide, labels, and organizer bundle, you can streamline your DIY or professional painting endeavors, ensuring a smooth and organized process.
Where to Use Evergreen Fog in Your Home
The question is, where can you use Evergreen Fog to make the most of its tranquil charm? The answer is, virtually anywhere.
Consider it for your living room, bedroom, kitchen, or even your home office. It's an ideal backdrop for showcasing your furniture, decor, and personal style.
Sherwin-Williams' Approach to Choosing 2022 Paint Colors
But how does Sherwin-Williams choose these trendsetting colors each year? Their approach involves a deep understanding of design trends, consumer preferences, and emerging themes.
The Color of the Year is a reflection of the collective aesthetic aspirations of the year ahead.
Requesting Samples of the 2022 Paint Colors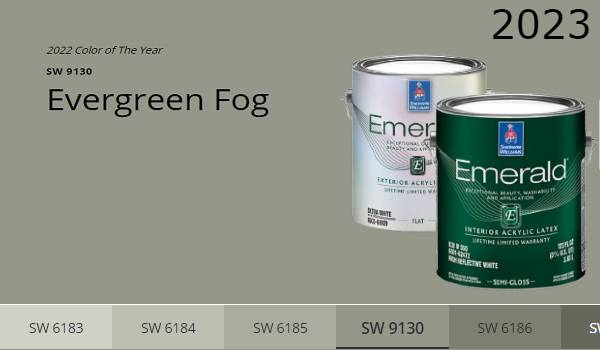 Before committing to a paint color, it's always a good idea to request samples. Sherwin-Williams makes this process easy, allowing you to test the colors in your own space to ensure they meet your expectations.
Understanding the Different Palettes of 2022 Colors
The 2022 color collection doesn't stop at the Color of the Year. It's divided into different palettes, each with its unique characteristics. Let's explore these palettes:
The Method Palette: Unveiling a Color Harmony
The Method palette consists of colors that work together to create a harmonious living space. It's all about balance and symmetry, allowing you to craft a serene and composed atmosphere.
The Opus Palette: Exploring the Power of Tones
In the Opus palette, you'll find colors that explore the world of tones. It's about depth and richness, making your space feel sophisticated and inviting.
The Ephemera Palette: Nostalgic Hues for Modern Spaces
Ephemera delves into nostalgic hues, giving your space a touch of vintage charm while maintaining a modern sensibility. It's all about nostalgia and authenticity.
The Dreamland Palette: Tranquil and Dreamy Colors
Dreamland is all about creating a serene and dreamy atmosphere. These colors are perfect for bedrooms and spaces where relaxation is a top priority.
Where to Find the Full Spectrum of 2022 Colors
If you're eager to explore the full spectrum of 2022 colors, Sherwin-Williams has showrooms and resources where you can view and experience them firsthand.
Tips for Achieving the Best Paint Job with Evergreen Fog
When it comes to applying Evergreen Fog or any of the 2022 colors, there are tips and tricks that can help you achieve the best results. From surface preparation to application techniques, getting the best paint job is within your reach.
Exploring More Paint Color Ideas from Sherwin-Williams
Sherwin-Williams continually provides inspiration for your home decor projects. Explore their extensive range of colors and ideas to discover the perfect paint color for your space.
Woven Wicker (SW 9104): A Complementary Color for Evergreen Fog
Woven Wicker (SW 9104) is an excellent complementary color choice for Evergreen Fog. These two colors together create a balanced and inviting ambiance.
Embracing the Evergreen Fog Trend in Home Decor
Embrace the trend by incorporating Evergreen Fog into your home decor. It's a color that stands the test of time and adapts effortlessly to changing styles and trends.
Colors to Pair with Evergreen Fog: Inspiration for Your Project
To help you visualize your project, here are some color pairings that work well with Evergreen Fog. From classic combinations to bold contrasts, you have numerous options.
Conclusion
Sherwin Williams 2022 Color of the Year, Evergreen Fog, is a testament to the enduring appeal of green in interior design.
Its versatility, calming effect, and compatibility with a range of colors make it an exceptional choice for anyone seeking to refresh their living spaces.
Whether you're planning a DIY project or working with a professional, Sherwin-Williams provides the resources and inspiration needed to create a beautiful and timeless environment. Explore the full spectrum of 2022 colors and paint your world with the serenity of Evergreen Fog.