When it comes to framing a new home or building garage shelves, the choice of sheathing material plays a crucial role.
The two most popular options for sheathing are plywood and oriented strand board (OSB). In this article, we will delve into the differences between plywood and OSB, exploring their history, costs, and long-term performance, and ultimately helping you make an informed decision for your garage shelves. So, let's get started!
You may also like:
The History of Construction in America
Before the advent of plywood and OSB, houses in America were typically built with solid sheathing, known as shiplap.
Shiplap provided structural strength and durability to houses, ensuring they could withstand external forces.
With the housing boom after World War II, plywood emerged as a popular choice for sheathing due to its availability and ease of installation.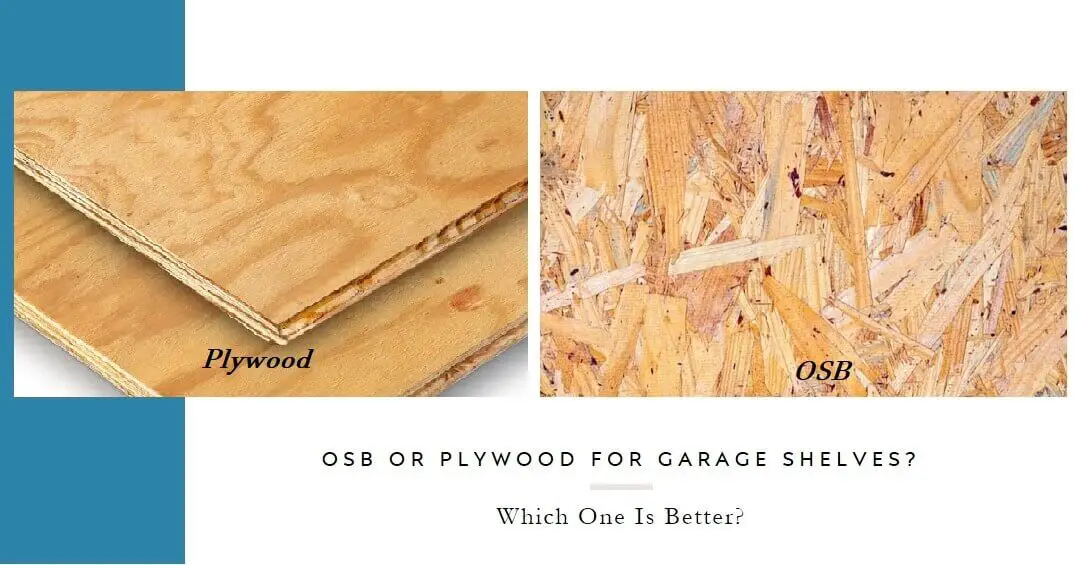 Plywood: A Post-World War II Choice
Plywood is a versatile sheathing material made from thin layers of wood veneer glued together in a cross-grain pattern.
It offers good strength and stability, making it suitable for a wide range of applications, including framing and shelving. Plywood comes in various thicknesses and ply counts, with half-inch plywood being a commonly used option.
Oriented Strand Board (OSB)
Oriented strand board, commonly referred to as OSB, is a newer sheathing option that gained popularity in American houses during the 1980s.
OSB is manufactured from small strands of fast-growth wood, which are glued, oriented, and pressed to form a durable and structural soundboard. It provides excellent nail-holding capability and serves as a reliable base for waterproofing and exterior finishes.
Cost Comparison: OSB vs. Plywood
Cost is a significant factor to consider when choosing between OSB and plywood for your garage shelves. OSB tends to be the more affordable option, with commodity-grade OSB priced at around $12 per sheet (at the time of writing).
On the other hand, CDX plywood, commonly used for sheathing, typically costs around $18 per sheet for the same nominal half-inch thickness. These price differences may seem modest, but when considering the total quantity required for a project, they can add up.
Read Also:
What Type of Plywood is Best for Garage Walls?
Long-Term Performance of OSB and Plywood
Ensuring the long-term performance and durability of your garage shelves is crucial. Both OSB and plywood have their strengths and weaknesses in this regard.
OSB has shown better resistance to small amounts of water exposure, while plywood has slightly more capacity to absorb and potentially dry out small amounts of water.
Improper waterproofing and sealing can lead to problems with either material.
Proper attention to detail, such as sealing windows and protecting the bottom foot of the house, is essential to prevent water damage and maintain the structural integrity of the sheathing material.
Making the Right Choice for Your Home
Choosing between OSB and plywood for your garage shelves ultimately depends on your preferences, budget, and risk tolerance. While both options have their advantages and disadvantages, here are a few factors to consider:
Budget: If cost is a significant consideration for you, OSB is generally the more affordable option. However, it's important to note that plywood may offer better long-term value due to its potential for improved durability.
Moisture Resistance: If your garage is prone to moisture or if you anticipate occasional water exposure, OSB might be a better choice due to its better resistance to limited moisture. However, proper waterproofing measures, such as applying a waterproof membrane or sealant, are crucial regardless of the sheathing material you choose.
Strength and Stability: Both OSB and plywood offer good strength and stability for garage shelves. However, plywood's cross-grain construction provides slightly better dimensional stability, making it less prone to warping and twisting over time.
Availability and Ease of Installation: Both OSB and plywood are widely available and easy to install. They come in standard sheet sizes, making them suitable for various shelving configurations. Consider the availability of the material in your area and choose the one that aligns with your installation skills and preferences.
Aesthetics: If the appearance of your garage shelves is important to you, plywood's layered wood grain look may be more visually appealing. Keep in mind that the shelves can be covered or painted to achieve the desired aesthetic, regardless of the sheathing material.
Read Also:
Painting Plywood Walls in Garage
Conclusion
When it comes to choosing between OSB and plywood for your garage shelves, there isn't a definitive right or wrong answer. Both materials have their strengths and weaknesses, and the decision should be based on your specific needs and preferences.
Consider factors such as budget, moisture resistance, strength, availability, and aesthetics to make an informed choice. If you're uncertain, consult with a local building professional who can provide guidance based on your specific circumstances.
Ultimately, selecting a high-quality sheathing material and ensuring proper installation and maintenance will contribute to the long-term durability and functionality of your garage shelves.