When it comes to your garage, having proper lighting is essential. Whether you use it as a workshop, storage area, or simply a place to park your car, a well-lit garage makes all the difference.
In this article, we'll look at the best lights for garage ceilings, discussing their features, benefits, and how they can transform your garage into a well-lit space that's both functional and visually appealing.
The Importance of Good Garage Lighting
A garage is more than just a space to park your car. It serves multiple purposes, such as storage, a workshop, or a place for DIY projects.
Without proper lighting, these activities can become challenging or even unsafe. Good garage lighting enhances visibility, reduces eye strain, and ensures you can easily find your tools and equipment.
Understanding Different Types of Garage Lights
Before we dive into the top garage ceiling lights, let's take a look at the different types of lights available for illuminating your garage space: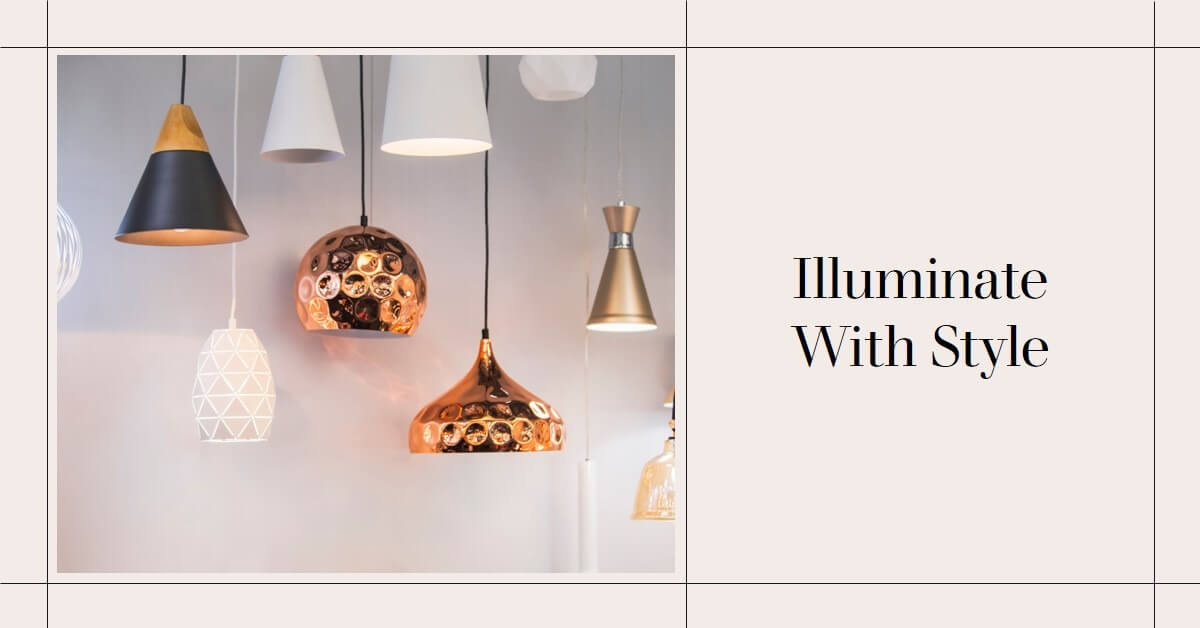 1. LED Garage Lights
LED (Light Emitting Diode) garage lights have gained immense popularity due to their energy efficiency and long lifespan.
They produce bright, white light, making them perfect for illuminating large areas. LED lights are also durable, produce less heat, and are available in various styles and designs.
Read Also:
Garage Led Lighting 
2. Fluorescent Lights
Fluorescent lights have long been a popular choice for garages. They provide bright and even illumination, making them suitable for task-oriented activities.
Although they are not as energy-efficient as LED lights, they still offer good light output and are relatively affordable.
3. Track Lights
Track lights consist of multiple adjustable light fixtures mounted on a track. They allow you to direct light to specific areas of your garage, making them ideal for highlighting workbenches or specific storage areas.
Track lights offer flexibility and are often used for accent lighting purposes.
4. Ceiling Lights
Ceiling lights are the most common type of garage lighting. They are typically mounted on the ceiling and provide general, ambient lighting for the entire space.
Ceiling lights come in various forms, including close-to-ceiling fixtures and pendant lights, and they are easy to install.
Read Also:
Flush Mount LED garage lights: The Best Options And Advice
5. Integrated Tube Lights
Integrated tube lights are all-in-one fixtures that combine the light source and housing into a single unit. They are commonly used to replace traditional fluorescent tube lights and offer improved energy efficiency and durability. Integrated tube lights are easy to install and provide uniform lighting.
Now that we have a better understanding of the different types of garage lights available, let's explore the top 5 garage ceiling lights that are highly recommended for their performance and features.
Top 5 Garage Ceiling Lights
1. TANBABY LED Garage Light E26/E27 Industrial Workshop Lighting LED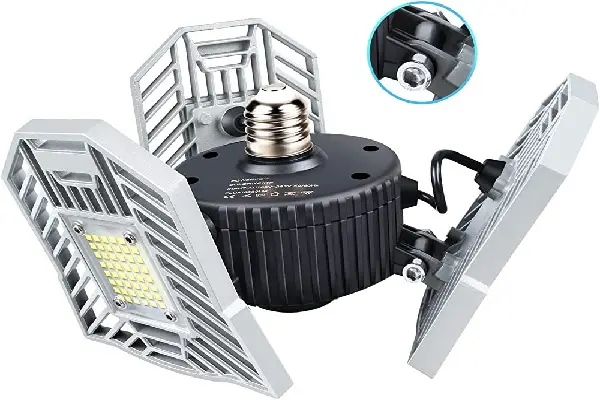 Brand: TANBABY
Color: Silver
Material: Aluminum
Style: Modern
Light fixture form: Close to Ceiling
Room Type: Kitchen, Gym, Studio, Utility Room
Product Dimensions: 11.8″L x 11.8″W x 5.1″H
The TANBABY LED Garage Light is a versatile lighting option suitable for various room types. It offers a modern design and a close-to-ceiling installation, making it a space-saving choice. With its high-quality aluminum construction, this light fixture ensures durability and longevity.
The TANBABY LED Garage Light provides ample illumination for your garage, whether you're working on a project or organizing your tools.
2. ZJOJO Linkable LED Shop Light for Garage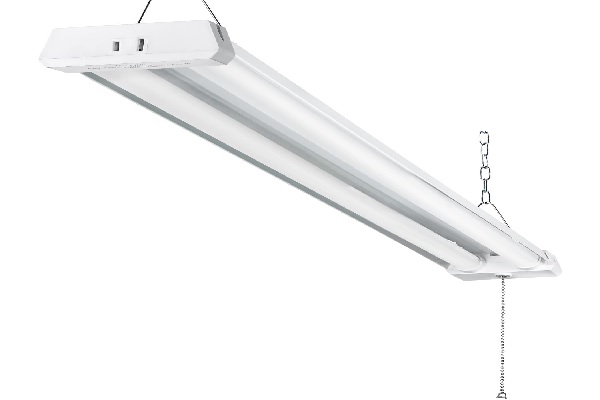 Brand: ZJOJO
Color: 3CCT Black
Light fixture form: Close to Ceiling
Room Type: Storage Room, Garage, Basement
Product Dimensions: 9.75″L x 9.5″W x 48″H
The ZJOJO Linkable LED Shop Light is an excellent choice for garages requiring long and narrow lighting coverage. With its linkable feature, you can easily connect multiple fixtures to achieve the desired brightness and coverage.
The 3CCT Black color adds a sleek touch to your garage's aesthetic, and the close-to-ceiling installation ensures easy and hassle-free setup.
3. TKUS E27 LED Bulb Fan Blade AC85
Brand: TKUS
Light Type: LED
Special Feature: Energy Efficient
Wattage: 28 watts
Bulb Base: E27
Unit Count: 1.0 Count
Color Temperature: 6500 Kelvin
The TKUS E27 LED Bulb with Fan Blade is a unique lighting solution that combines a traditional bulb shape with energy-efficient LED technology. With its high wattage and cool daylight color temperature, this bulb provides bright and crisp lighting for your garage.
The fan blade design enhances heat dissipation, ensuring a longer lifespan for the bulb.
4. Four-Bros Lighting 6 Lamp Fluorescent Equal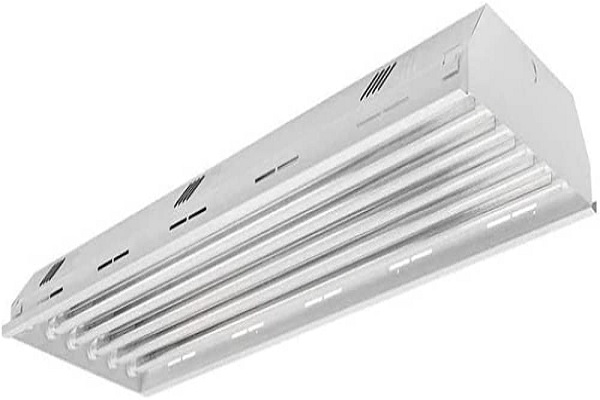 Brand: Four-Bros Lighting
Light Type: LED
Wattage: 132 watts
Bulb Shape Size: T8
Light Color: Daylight White
Voltage: 277 Volts
Unit Count: 1 Count
Color Temperature: 5000 Kelvin
Product Dimensions: 49 x 17 x 5 inches
If you prefer the brightness and color temperature of fluorescent lights but want the benefits of LED technology, the Four-Bros Lighting 6 Lamp Fluorescent Equal is an excellent choice.
With its high wattage and daylight white light color, this LED fixture offers powerful illumination similar to traditional fluorescent lights. The long-lasting LED bulbs ensure energy efficiency and save you from frequent replacements.
5. Hykolity 4 Pack 4ft Linkable LED Shop Light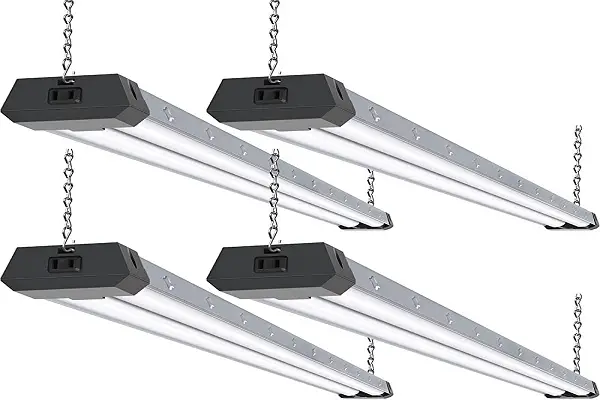 Brand: Hykolity
Color: 5000K-White
Material: Steel
Style: Modern
Light fixture form: Pendant
Room Type: Basement, Garage, Workshop, Workbench Area, Storage Area, Warehouse, Equipment Room
Product Dimensions: 48″L x 5.4″W x 2.24″H
The Hykolity 4 Pack 4ft Linkable LED Shop Light offers a bundle of powerful lighting fixtures that can be conveniently linked together. Whether you need to illuminate a small corner or a large garage space, these lights provide uniform and bright lighting.
With their durable steel construction and modern design, they are not only functional but also add a touch of style to your garage.
Read Also:
10 Inspiring Workshop Lighting Ideas
Key Features to Consider
When choosing the best lights for your garage ceiling, there are several important features to consider. Let's take a closer look at them:
1. Brightness and Lumens
The brightness of the light is measured in lumens. Consider the size of your garage and the level of illumination you require. Higher lumens are ideal for larger spaces, while lower lumens may suffice for smaller garages.
2. Energy Efficiency
Opt for energy-efficient lights to reduce your electricity consumption and save on energy bills. LED lights are known for their energy efficiency and longevity compared to traditional incandescent or fluorescent lights.
3. Installation and Linkability
Choose lights that are easy to install, especially if you plan to do it yourself. Look for lights with linkable features, allowing you to connect multiple fixtures for better coverage and brightness.
4. Durability and Lifespan
Garage lights should be durable enough to withstand the conditions of a garage environment, including dust, moisture, and potential impacts. Consider lights with sturdy construction and long lifespan to avoid frequent replacements.
5. Room Type and Style
Different room types within your garage may require different lighting options. Consider the specific purpose of each area, such as a workshop or storage space, and choose lights that suit the style and ambiance you desire.
Conclusion
Good lighting is crucial for a well-functioning garage. With the wide range of options available, you can find the best lights for your garage ceiling that meet your specific needs.
LED lights, such as the TANBABY LED Garage Light and ZJOJO Linkable LED Shop Light, offer energy efficiency, brightness, and versatility.
Consider factors like brightness, energy efficiency, installation ease, durability, and room type when making your decision. Illuminate your garage with style and efficiency, transforming it into a well-lit space that enhances your productivity and enjoyment.