Doors play a vital role in connecting different spaces within a home, and when it comes to the transition from the kitchen to the garage, they become more than just a functional necessity.
The right door can enhance the aesthetic appeal of your home while ensuring security and convenience.
In this comprehensive guide, I will share my insights into the various types of doors from the kitchen to the garage, shed light on critical factors to consider when choosing one, and provide installation instructions for a truly seamless transition.
Types of Doors from Kitchen to Garage
1. French Doors: Adding Elegance and Light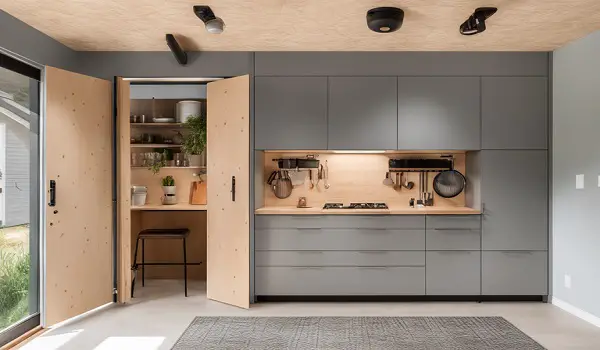 French doors have always held a special place in my heart for their timeless elegance.
The dual panels swing open to create a wide and inviting passage between the kitchen and garage, and the glass panels flood the area with natural light.
Opting for French doors can infuse a touch of sophistication into your home.
French doors come in a variety of materials, including wood, fiberglass, and steel, allowing you to select one that matches your style and budget.
2. Sliding Doors: Space-Saving Modernity
When space is at a premium, sliding doors are the way to go. These doors glide horizontally along a track, eliminating the need for clearance for swinging.
With their sleek, modern design and large glass panels, they effortlessly create a sense of openness and connectivity.
Sliding doors are also energy-efficient, providing an effective seal against drafts. They are available in various frame materials, such as aluminum, vinyl, and wood, giving you both design flexibility and durability.
3. Barn Doors: Rustic Charm Meets Functionality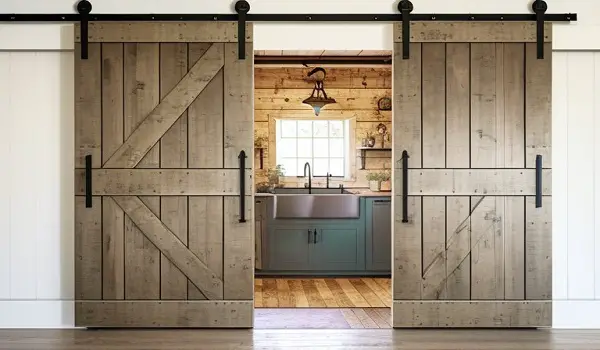 The allure of barn doors is hard to resist. They slide gracefully along a wall-mounted track, and their rustic appeal can transform your kitchen-to-garage transition into a work of art.
Barn doors can be customized with various finishes and hardware options to harmonize with your home's aesthetics.
Whether you prefer a single or double-panel configuration, barn doors offer a unique blend of space-saving functionality and style.
4. Pantry Doors: Niche Perfection
Pantry doors are tailored for the kitchen-to-pantry transition. They come in various styles, including traditional swing doors and space-saving folding options.
Decorative glass, patterns, or solid wood can adorn these doors, allowing you to coordinate them seamlessly with your kitchen's design.
Installing a pantry door that complements your kitchen cabinets and decor adds a distinct and coordinated touch to your home.
5. Storm Doors: Enhancing Security and Efficiency
Storm doors are a smart choice for those seeking improved energy efficiency and enhanced security.
Installed on the exterior, they provide an extra layer of protection against the elements and potential intruders.
Featuring glass panels for natural light and weather resistance, storm doors come in materials like aluminum, steel, and vinyl.
6. Security Doors: Prioritizing Safety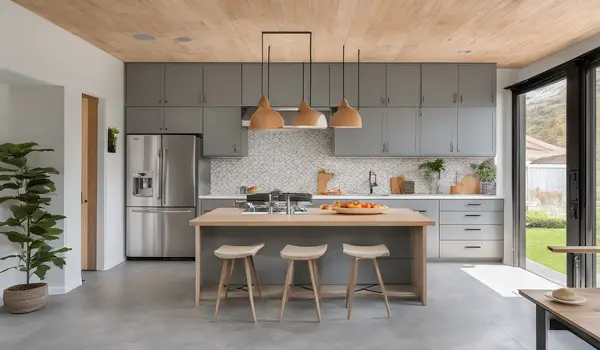 If security tops your list of concerns, a security door from kitchen to garage is a wise investment.
These doors boast reinforced frames, multiple locks, and durable materials to maximize protection.
The good news is that they come in various styles, ensuring you don't have to compromise aesthetics for safety.
Read Also: Black Garage Doors with Windows
How to Choose the Right Door from Kitchen to Garage
Selecting the perfect door for your kitchen-to-garage transition entails thoughtful consideration of several factors:
Factors to Consider
Space: Measure your available space accurately to determine which door style fits best.
Aesthetics: Keep in mind the overall look and feel of both your kitchen and garage. The chosen door should seamlessly blend with your existing design.
Material: Choose a door material that aligns with your durability and maintenance preferences.
Security: Assess your security needs and opt for a door with appropriate locks and reinforcements.
Energy Efficiency: Prioritize doors with good insulation properties to lower energy costs.
Tips for Choosing the Right Door
Precise Measurements: Ensure precise measurements to avoid installation hassles.
Professional Guidance: Seek advice from door installation experts to make informed choices.
Long-Term Maintenance: Consider the long-term maintenance requirements of your chosen door material.
Budget-Friendly Options: Stick to a budget that aligns with your financial capabilities.
Conclusion
Choosing the right door from the kitchen to the garage is a deeply personal decision. It's not just about functionality; it's about elevating the beauty, security, and functionality of your home.
Whether you gravitate towards the timeless elegance of French doors, the space-saving practicality of sliding doors, or the rustic charm of barn doors, your choice should resonate with your lifestyle, budget, and design sensibilities.
As someone who values the importance of home, I encourage you to make this decision wisely. By considering the factors outlined above and following the installation instructions, you can seamlessly connect your kitchen and garage while adding immeasurable value to your home.
Remember, the right door from the kitchen to the garage can be transformative, turning a simple transition into an experience.
Invest in your home wisely, and enjoy the journey of improvement, starting with the perfect door from kitchen to garage that reflects your unique style and needs.