Smoky Blue is a versatile color that can be used to create a variety of different looks. It's perfect for traditional spaces, but it can also be updated for a more modern feel.
One of the things I love most about Smoky Blue is its ability to create a sense of calm and serenity. It's the perfect color for a bedroom or bathroom, where you want to relax and unwind.
Smoky Blue is also a great color for adding depth and dimension to a room like a garage. When used on an accent wall, it can really make a space pop.
I've found that Smoky Blue works well with a variety of different color palettes. For a traditional look, pair it with warm neutrals like ivory or cream. For a more modern look, try pairing it with cool neutrals like gray or white.
What is Smoky Blue Sherwin Williams Exterior?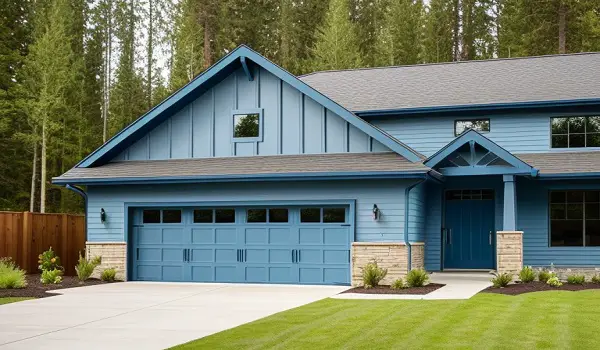 Smoky Blue SW 7604 presents a harmonious blend of neutral blue and sophisticated gray undertones.
This unique combination results in a color that exudes elegance and tranquility, making it an ideal choice for a wide array of design styles.
Whether you are aiming for a classic traditional look or a sleek and modern appeal, Smoky Blue has the versatility to adapt to your vision.
You may also like:
Key Features of Smoky Blue Sherwin Williams Exterior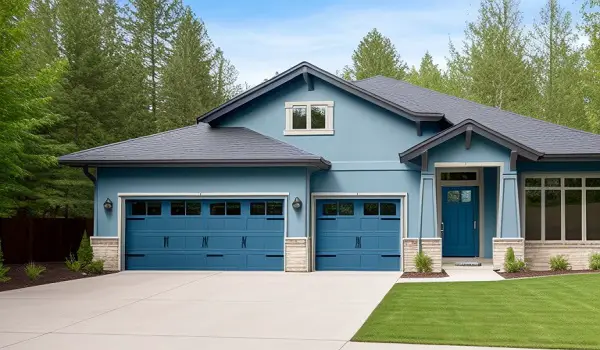 One of the standout features of Smoky Blue is its neutrality, enabling it to effortlessly complement a diverse palette of colors.
Its gray undertone adds an element of sophistication and depth, making it more than just ordinary blue paint.
This subtle undertone also helps to create a soft and airy feel, which can enhance the visual space of a room or the exterior of a home.
Here are some of the features of Smoky Blue SW 7604 for exterior use:
Light Reflectance Value (LRV): 15. This means that Smoky Blue reflects a low amount of light, making it a good choice for homes that receive a lot of sunlight.
RGB: 89, 110, 121. This code represents the shades of red, green, and blue that makeup Smoky Blue.
Hex code: #596E79. This code can be used to specify Smoky Blue in any paint program.
Location number: 233-C7. This number is used to identify Smoky Blue at Sherwin-Williams stores.
Available in: Exterior. Smoky Blue can be used on exterior surfaces.
Color collections: Color ID (Nurturer). Smoky Blue is part of the Color ID (Nurturer) color collection, which features calming and relaxing colors.
Color family: Neutral. Smoky Blue is a neutral color, which means that it can be paired with a variety of other colors.
Is Smoky Blue Sherwin Williams good for a garage?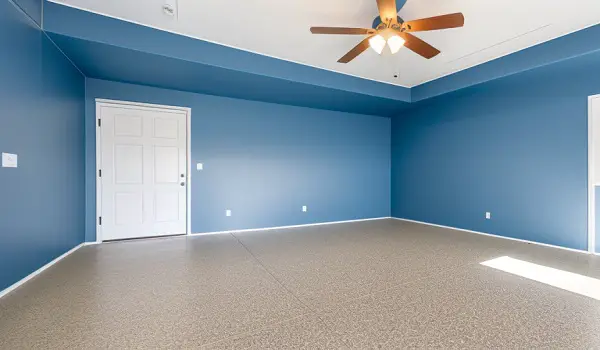 When it comes to transforming a garage from a mere storage space into a functional and aesthetically pleasing area, the choice of paint color plays a pivotal role.
Smoky Blue SW 7604, a versatile neutral blue from Sherwin-Williams, presents itself as an intriguing option for garage walls.
Before diving into the world of paintbrushes and rollers, it's essential to evaluate several factors that will determine if Smoky Blue is the ideal choice for your garage.
Durability: Garages are exposed to the elements, so it is important to choose a paint that is durable and can withstand moisture, heat, and cold. Smoky Blue SW 7604 is a semi-gloss paint that is designed for exterior use, so it is a good option for garages.
Light reflectance: Garages can be dark, so it is important to choose a paint color that reflects light well. Smoky Blue SW 7604 has a light reflectance value (LRV) of 15, which means that it reflects a moderate amount of light. This will help to make the garage feel brighter and more inviting.
Versatile: Smoky Blue SW 7604 is a versatile color that can be paired with a variety of other colors. This makes it a good choice for garages, where you may want to add some personality and style.
Smoky Blue SW 7604 is a good paint color for the garage. It is durable, light-reflecting, and versatile. It is important to consider your individual needs and preferences before making a decision.
How to Apply Smoky Blue Sherwin Williams Exterior
The beauty of Smoky Blue lies not only in its color but also in its ease of application. This paint color is available for both interior and exterior surfaces, giving homeowners the freedom to extend its allure beyond the confines of their indoor spaces.
Its adaptability to various surfaces, coupled with its fade-resistant nature, ensures that the color retains its vibrancy and elegance over time.
Styling Tips for Smoky Blue Sherwin Williams Exterior
Smoky Blue serves as a versatile canvas upon which various design elements can be layered. For those who lean toward a traditional aesthetic, pairing this blue with crisp white trim and bold black accents can create a timeless appeal.
On the other hand, those seeking a modern look can juxtapose Smoky Blue with sleek gray trim and accents in silver tones. To infuse vitality into the space, consider incorporating bursts of color through flowers, decor, or other carefully chosen accents.
Conclusion
In the realm of paint colors, Smoky Blue SW 7604 from Sherwin-Williams stands out as a true gem. Its unique blend of neutral blue and gray undertones allows it to transcend the boundaries of design styles, seamlessly fitting into both traditional and modern contexts.
Whether adorning the interior walls of a garage or gracing the exterior facade of a home, Smoky Blue has the power to evoke a sense of elegance and sophistication.
As you embark on your next design journey, consider the transformative potential of Smoky Blue Sherwin Williams Exterior paint a color that not only beautifies spaces but also elevates them to a new level of artistry and allure.