An enclosed garage is a versatile space within your home that often serves as a storage area for vehicles and household items.
However, it can be so much more than that. With a bit of creativity and strategic planning, you can transform your enclosed garage into a functional and aesthetically pleasing part of your home.
In this article, we will explore 10 innovative enclosed garage ideas that can enhance your living space, boost your home's curb appeal, and increase its overall value.
Benefits of Enclosed Garages
Before we dive into the specific ideas, let's first understand the advantages of having an enclosed garage. These benefits can help you make the most of your renovation project:
Weather Protection: Enclosed garages protect your vehicles and belongings from harsh weather conditions, preventing damage and prolonging their lifespan.
Security: A closed garage provides added security for your vehicles and personal items, reducing the risk of theft and vandalism.
Energy Efficiency: When properly insulated, an enclosed garage can help regulate the temperature in adjacent rooms, leading to energy savings.
Curb Appeal: A well-designed garage can significantly enhance your home's exterior aesthetics, increasing its curb appeal.
Multi-Functionality: An enclosed garage can serve various purposes beyond vehicle storage, as we will explore in the following sections.
Now, let's delve into the exciting enclosed garage ideas that can transform your space.
10 Enclosed Garage Ideas
1. Garage Turned Outdoor Retreat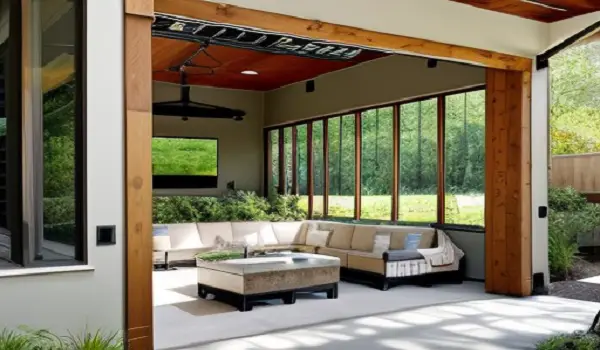 Imagine your enclosed garage as a tranquil oasis within your home. By installing large glass garage doors that open to your backyard, you create a seamless connection between indoor and outdoor spaces.
This design not only floods your garage with natural light but also allows for a refreshing breeze to sweep through.
To make it cozier, consider adding comfortable seating, an outdoor fireplace, and some greenery. It's an ideal spot for unwinding, hosting gatherings, or simply enjoying the beauty of the outdoors while maintaining the comforts of home.
Benefits:
A relaxing space for outdoor entertainment.
Increased natural light and ventilation.
Enhanced connection to the surrounding environment.
Improved overall aesthetics and curb appeal.
2. Garage Greenhouse
For those with a passion for gardening, converting your garage into a greenhouse is a dream come true. With proper insulation and climate control systems, your garage can host a wide variety of plants year-round.
You can install shelves, planters, and workstations to nurture your greenery. Whether you're growing flowers, vegetables, or exotic plants, your garage greenhouse provides a controlled environment that fosters healthy and thriving flora.
Benefits:
Year-round gardening opportunities.
Protection for delicate plants from harsh weather.
Aesthetic appeal and a unique feature for your home.
Potential for growing your own organic produce.
3. Garage Patio Design
Transforming your garage into a stunning patio area is an excellent way to combine indoor comfort with outdoor beauty.
By removing the garage door and replacing it with stylish sliding or folding doors, you create an inviting space for relaxation and entertainment.
Add some cozy outdoor furniture, potted plants, and decorative lighting to create a welcoming atmosphere. This design allows you to enjoy the outdoors while still benefiting from the protection and convenience of an enclosed space.
Benefits:
A versatile space for outdoor dining, parties, or relaxation.
Protection from insects and adverse weather conditions.
Increased natural light and ventilation.
Improved property value and curb appeal.
4. Garage Outdoor Connection
To seamlessly integrate your garage with your backyard, consider adding a covered breezeway or pergola.
This architectural feature not only enhances the aesthetics of your home but also fosters a seamless transition from indoor to outdoor living.
The covered connection provides shade and protection from the elements, allowing you to enjoy the outdoors without exposure to harsh weather conditions.
Benefits:
Improved flow between indoor and outdoor spaces.
Increased shade and comfort in your backyard.
Added architectural charm and character to your home.
Enhanced property value and curb appeal.
5. Converted Garage Guest House
Maximize your property's potential by transforming your garage into a fully functional guest house.
This conversion can include a bedroom, bathroom, and kitchenette, providing a private and comfortable space for guests or even a potential source of rental income.
By adding insulation, heating, and cooling systems, you ensure year-round comfort for your guests or tenants.
Benefits:
Additional living space for guests or potential rental income.
Increased property value and versatility.
Enhanced privacy and convenience for guests.
Expanded options for hosting family and friends.
6. Garage Tiny Home Living Area
For those looking to downsize or create a more sustainable living space, consider converting your garage into a tiny home living area.
This compact yet functional space can serve as a guest suite, a home office, or even a rental unit.
With thoughtful design and space-saving solutions, you can maximize every inch of your garage while maintaining comfort and functionality.
Benefits:
Efficient use of space for a minimalist lifestyle.
Opportunity for additional income as a rental unit.
Increased property value and versatility.
Sustainable living with reduced energy consumption.
7. Garage Reading Nook
Create a serene reading nook within your garage by adding comfortable seating, bookshelves, and soft lighting.
This cozy corner provides a quiet escape where you can immerse yourself in your favorite books. The enclosed nature of the garage ensures peace and quiet, making it an ideal retreat for literary enthusiasts.
Benefits:
A dedicated space for relaxation and reading.
Enhanced tranquility away from the main living areas.
Aesthetic appeal and a unique feature in your home.
Improved concentration and focus for reading enthusiasts.
8. Garage Indoor/Outdoor Living Space
Combine the best of both worlds by designing an enclosed garage with sliding glass walls that open to an outdoor deck or patio.
This versatile space is ideal for gatherings and relaxation, offering the flexibility to enjoy open-air experiences or retreat to the comfort of your enclosed garage when needed.
The seamless transition between indoor and outdoor living makes it perfect for hosting parties or simply basking in the beauty of nature.
Benefits:
Versatile space for various activities and gatherings.
Enhanced connection to the outdoors.
Increased natural light and ventilation.
Improved property value and curb appeal.
9. Garage Indoor Garden or Atrium
Bring the beauty of nature indoors by transforming your garage into an indoor garden or atrium. This lush space can be a tranquil retreat and improve your home's air quality.
With carefully selected plants, proper irrigation, and skylights or large windows, your garage can become a serene oasis that promotes relaxation and well-being.
Benefits:
Improved indoor air quality and humidity levels.
Aesthetic appeal and a connection to nature.
Enhanced relaxation and stress reduction.
A unique feature that adds value to your property.
10. Garage Artificial Climbing Wall
For the adventurous and fitness-minded individuals, converting your garage into a rock climbing haven is an exciting option.
With custom-built climbing walls, safety features, and appropriate padding, you can create a unique and physically engaging addition to your home. Climbing enthusiasts of all ages can enjoy this challenging and entertaining space.
Benefits:
A fun and challenging recreational space.
Opportunities for physical fitness and skill development.
A unique feature that adds value to your property.
A creative outlet for designing custom climbing routes.
Conclusion
Enclosed garage has the potential to be so much more than a storage space.
By exploring these 10 innovative ideas, you can transform your garage into a functional, stylish, and valuable part of your home. Consider your lifestyle, preferences, and budget when choosing the right concept for your renovation project.
Whether it's creating an outdoor retreat, a guest house, or a reading nook, these enclosed garage ideas are sure to elevate your home's aesthetics and functionality.
Take the first step towards realizing your dream garage transformation today, and increase your curb appeal in the process.
So, start exploring these exciting enclosed garage ideas and unlock the full potential of your property with these Enclosed Garage Ideas.
Remember, with a bit of imagination and careful planning, your enclosed garage can become an integral part of your home's design and functionality.
Whether you choose to create an outdoor retreat, a greenhouse, or a guest house, these ideas offer innovative ways to make the most of your space and enhance your property's curb appeal.
So, start planning your enclosed garage transformation today and turn your vision into reality. Your home will thank you, and so will your curb appeal.