Garage door openers have come a long way in recent years, and the Chamberlain B2405 leads the pack.
With its advanced features and seamless integration with smart home technologies, this Wi-Fi-enabled garage door opener is a game changer.
In this article, We will provide detailed information on Chamberlain B2405, highlighting its key features, benefits, installation process, troubleshooting tips, pros and cons, and more. So, let's dive in!
Features of the Chamberlain B2405
The Chamberlain B2405 comes packed with impressive features that set it apart from traditional garage door openers:
Smartphone Control
With the myQ app, you can effortlessly open, close, and monitor your garage door from anywhere using your smartphone. Whether you're at work, on vacation, or simply in another room, you have full control at your fingertips.
Quiet Operation
Say goodbye to the noisy garage door openers of the past. The B2405 features a quiet AC motor and belt drive system, ensuring smooth and silent operation. You can come and go without disturbing anyone in your home.
Next Generation Garage Technology
The B2405 is equipped with enhanced Wi-Fi connectivity and improved memory, allowing it to support new myQ features seamlessly. Stay updated with the latest advancements in garage door technology.
Integrated Bluetooth Technology
Connecting your Chamberlain B2405 to the myQ app and other smart home devices is a breeze, thanks to integrated Bluetooth technology. Enjoy a fully integrated and connected smart home experience.
Trusted Security
The B2405 utilizes Security+ 2.0 technology, providing unparalleled encryption and protection against potential intruders. Your garage and home will be safe and secure.
Lighting
Illuminate your garage with ease using the two 100-watt bulbs that come with the B2405. Enjoy a well-lit environment whenever you step into your garage.
Read Also: Chamberlain Garage Door Openers
Chamberlain b2405 specs
Lifting force: 1/2 HP
Drive system: Belt drive
Noise level: 68 decibels
Wi-Fi connectivity: Yes
Bluetooth connectivity: Yes
Security+ 2.0 technology: Yes
Lighting: 2 x 100-watt bulbs
Dimensions: 26.75 x 13.12 x 9.94 inches
Weight: 22 pounds
Benefits of Using the Chamberlain B2405
By choosing the Chamberlain B2405, you unlock a range of benefits that enhance your overall garage door experience:
Convenience: Open and close your garage door with a tap on your smartphone, eliminating the need for traditional remotes or manual operation.
Peace of Mind: Monitor the status of your garage door and receive real-time notifications, ensuring you never have to worry about whether it's open or closed.
Smart Home Integration: Seamlessly integrate your garage door opener with other smart home devices, creating a connected ecosystem that simplifies your daily routines.
Enhanced Security: Benefit from advanced encryption and security features that keep your garage and home protected against unauthorized access.
Quiet and Smooth Operation: Experience the tranquility of a garage door opener that operates silently, allowing you to maintain a peaceful environment.
How to Install the Chamberlain B2405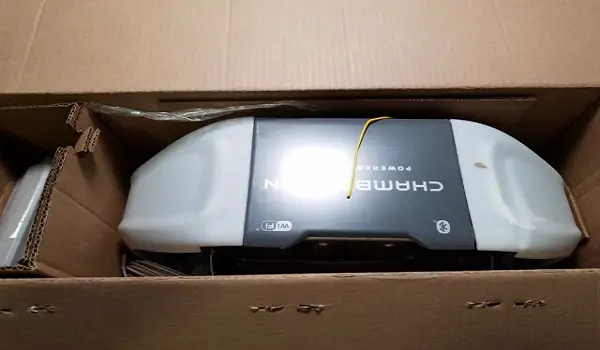 Follow these steps to install the Chamberlain B2405:
Assemble the rail sections, ensuring they fit together securely. Use a rubber hammer or mallet if needed to ensure tight connections.
Add a screwdriver to the rail per the instructions to keep the trolley in place.
Feed the belt or chain through the designated hole, ensuring the teeth face inward. Attach the pulley to the designated spot.
Secure the belt or chain to the trolley using a master link.
Unscrew the top bolts on the opener to install the U-bracket and cover protection bolt.
Attach the rail to the opener and tighten the bolts securely.
Connect the belt or chain to the trolley, ensuring proper tension. Use the provided instructions and tools to make the necessary connections.
Install the sprocket cover on top of the motor assembly.
Adjust the bracket on the other end of the rail if required.
Lift the garage door opener and position it correctly, ensuring it is well-supported.
Reinstall the emergency release cord and reconnect the sensor and control wires.
Test the garage door to ensure it opens and closes smoothly.
Additional Considerations
During the installation process, consider the following:
Read the instruction manual thoroughly and follow the specific guidelines for your model.
Adjustments may be required depending on your specific environment and door configuration.
If you are replacing the sensors and wires, do so during the installation process.
Take into account the height of your garage door and purchase an opener suitable for the size.
Ensure all safety protocols are tested and functioning correctly.
Programming and Testing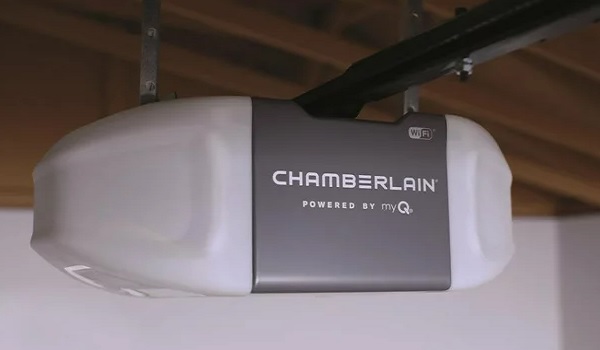 After installing the Chamberlain B2405, you need to program and test its functionality. Follow these steps:
Program the travel by pressing and holding the adjustment button until the up button starts flashing or a beep is heard.
Hold the up button until the door reaches the desired up position, then press and release the adjustment button.
The garage door opener lights should flash twice, and the down button will start flashing.
Hold the down button until the door reaches the desired down position, then press and release the adjustment button again.
The opener lights will flash twice, indicating a successful program journey.
The opener will now enter a force-sensing operation, automatically moving the door open and close.
Test all safety features to ensure they function correctly.
Setting Up the MyQ App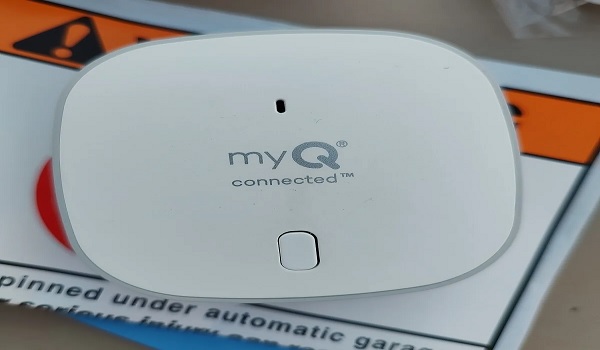 To take full advantage of the Chamberlain B2405's features, set up the MyQ app on your smartphone. Here's what you need to do:
Ensure a strong Wi-Fi signal in your garage to establish communication between the garage door opener and your phone.
Follow the app's setup process, which typically involves creating an account, connecting to your opener, and configuring settings.
The MyQ app allows you to control and monitor your garage door remotely, providing convenience and peace of mind.
Troubleshooting Tips for the Chamberlain B2405
In case you encounter any issues with your Chamberlain B2405, here are some troubleshooting tips to help you resolve them:
Check Power Connection: Ensure that the opener is properly connected to a power source.
Inspect Safety Sensors: Clean the safety sensors and make sure they are aligned and free from obstructions.
Reset Wi-Fi Connection: If you experience connectivity issues, reset the Wi-Fi connection by following the instructions in the user manual.
Contact Support: If the problem persists, reach out to Chamberlain's customer support for further assistance.
Read Also:
Chamberlain B970 Garage Door Opener
Pros and Cons of the Chamberlain B2405
Like any product, the Chamberlain B2405 has its strengths and limitations. Let's take a look at the pros and cons:
Pros:
Quiet operation, thanks to the AC motor and belt drive system.
Smartphone control for easy access from anywhere.
Next-generation garage technology for improved performance.
Integrated Bluetooth technology for seamless connectivity.
Trusted security features with Security+ 2.0 encryption.
Two 100-watt bulbs for ample garage lighting.
Cons:
Some users have reported occasional app bugs.
The price may be higher compared to alternative garage door openers.
Alternative Garage Door Openers to the Chamberlain B2405
While the Chamberlain B2405 offers exceptional features and performance, there are alternative garage door openers worth considering. Some popular options include:
LiftMaster 8500W: Known for its space-saving design and reliable performance.
Genie SilentMax 750: Offers quiet operation and smart home compatibility.
Craftsman 57915: Provides a good balance between features and affordability.
The Chamberlain B2405 Price
The Chamberlain B2405 comes at a competitive price point, considering its advanced features and smart home integration. For current pricing information, it is recommended to visit Chamberlain's official website or authorized retailers.
The Chamberlain B2405 Warranty
Chamberlain stands behind the quality of their products. The B2405 comes with a standard warranty that covers manufacturing defects and malfunctions. For detailed warranty terms and conditions, refer to the documentation provided with the product.
The Chamberlain B2405 Energy Efficiency Rating
The B2405 is designed with energy efficiency in mind, ensuring optimal performance while consuming minimal power. While specific energy efficiency ratings may vary, Chamberlain products are known for their eco-friendly operation.
The Chamberlain B2405 Compatibility with Other Smart Home Devices
The Chamberlain B2405 seamlessly integrates with various smart home devices, allowing you to create a cohesive and interconnected smart home ecosystem. Check Chamberlain's website for a list of compatible devices and their integration capabilities.
Conclusion
In conclusion, the Chamberlain B2405 garage door opener offers a host of advanced features that make it an excellent choice for homeowners looking to upgrade their garage door system.
With its smartphone control, quiet operation, and enhanced security, it provides convenience, peace of mind, and seamless integration with other smart home devices.
Consider the pros and cons, explore alternative options, and make an informed decision based on your specific needs and preferences.
Related article
How to Adjust Chamberlain Garage Door Opener
Chamberlain Garage Door Opener Battery