Organized garage ideas have a variety of purposes, and they can be used to store many things. It could be used to store your car, bikes, garden tools, or even personal items such as sporting equipment and toys, and games.
However, most people do not organize their garage well so it becomes chaotic and cluttered which can cause problems with the safety of your belongings, your vehicle, and even yourself when you are using the equipment in the garage.
Here are some inexpensive garage organization ideas that you can use to reduce the mess in your garage and make it safe to use while staying within your budget.
Organized Garages Ideas
It's not uncommon for garages to turn into storage areas often with junk storage taking over. If you have a cluttered garage that looks anything like what I just described, don't despair.
You can quickly organize your garage without breaking your budget or putting in a lot of work. With these organized ideas, you will be able to transform your messy space into an easy-to-navigate garage that makes it easy for everyone in your family to find what they need in one spot!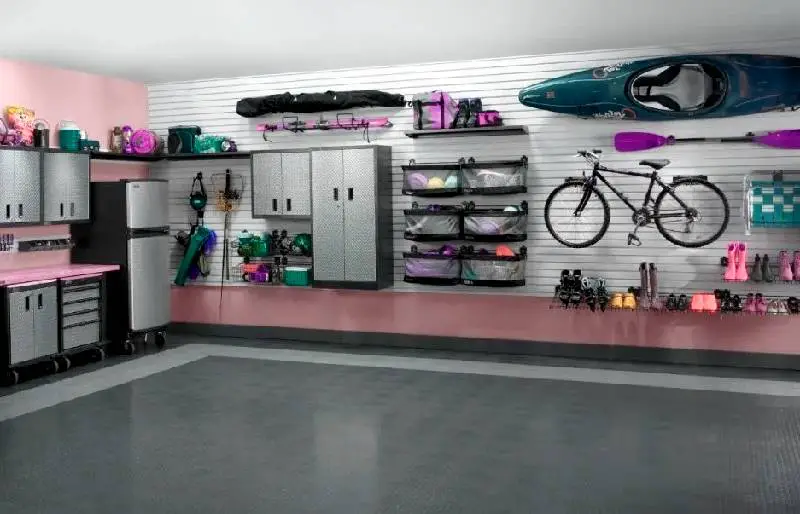 Separate your space into zones
You don't need a lot of money or many tools to get your garage organized. Think about how you use your space, and try to make it easy for things that go together to be together.
For example, you can create zones with shelves and dividers (that you can build from old wood) that separate belongings like lawnmowers from sports equipment from bikes.
Think about sections where you can stash seasonal items as well: Maybe there's space for holiday decorations or bicycles and skis during the winter months.
Add labels, too: A label maker is a nice investment if all your garage storage supplies aren't already labeled.
It makes finding what you want much easier if items are grouped into zones and labeled accordingly.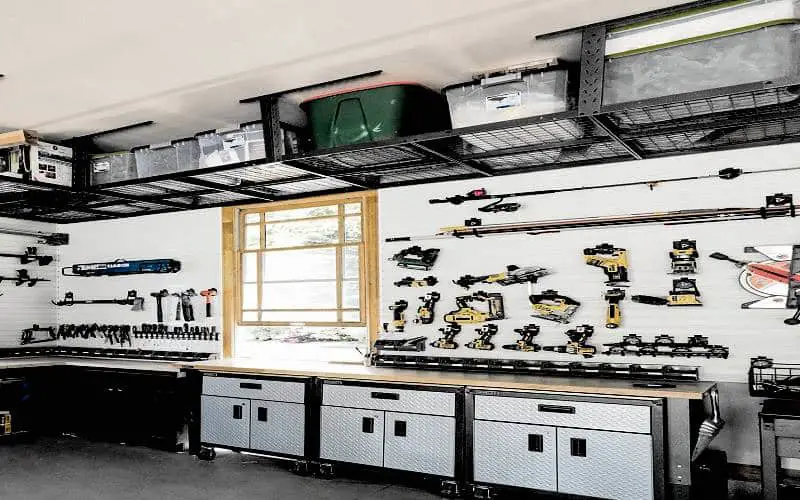 Group items by frequency of use
Think about how you use your items when you're at home.
Which are used often? Which gets used less? Grouping similar items together will help you determine where best to store them and make them easier to access.
You can do this by organizing objects like brooms, mops, and other cleaning supplies in one location.
Bins are your friends
If you have a lot of space, consider using bins or large, clear plastic totes to store your tools.
With bags and boxes, you can't see what's inside and that makes it much harder to find what you need when you need it.
Bins are an easy solution for storing smaller objects and since they're clear you can quickly tell if something is missing.
If your bins aren't transparent (which most aren't) try painting them a bright color so items are easier to spot against their background.
Use Hooks for Belongings
You probably already use hooks to organize your closets. Why not take that idea and apply it to your garage? Hooks can be used for all sorts of items and not just those that are meant for hanging up, such as coats or backpacks.
You can also use them for larger items like bikes, basketball hoops, nets, surfboards, snowboards, ladders even gardening tools.
Simply attach a hook directly onto a wall (or beam or rafter) and hang your stuff from it!
Store with like items
This applies whether you're getting ready for a big garage sale or just trying to declutter your personal storage space.
When storing items like tools, sporting equipment, gardening supplies, and even toys, and clothes, it makes sense to group similar things together.
That way, you can find items quickly and easily when they're needed.
Outsource if you need to
Creating an organized garage is an easy way to take your home from cluttered chaos to a relaxing retreat. But if you find yourself overwhelmed, budget-conscious DIY-ers can outsource some of the work. In other words, hire someone else to help clean out and organize your garage for you.
Try a garage sale or giveaway some items
Garage sales can be a great way to make some extra cash, but they can also be a big mess. Try hosting one in your garage to earn more money and help yourself clean out your space at the same time.
Or, if you have too much stuff for a sale and don't want to throw it away, consider contacting your local charities about how you can donate what you don't want anymore!
Create designated spots for seasonal items
If you're like most people, you don't often use some of your stuff—things like sleds, ice skates, and Halloween decorations.
Rather than having them take up valuable space all year long, create separate spots for seasonal items that only come out once or twice a year.
This can also be a good place to stash extra garbage bags and other supplies. If you have small children who love playing in boxes, designate an area for packing/storage supplies (packing peanuts, tape, and scissors) so they won't get lost in your garage clutter.
All of these ideas go a long way towards keeping your garage organized throughout the year.
5 quick and cheap garage organizing ideas
Keeping your garage organized doesn't have to be difficult or expensive. If you're looking to get started, here are 5 quick and cheap ways to organize your garage that should help you tackle the issue in no time.
1) Create a DIY Pegboard
Home-improvement stores sell pegboard kits for around $20. Alternatively, you can make your own for about half that price by cutting boards with a saw (and sanding/painting as needed). Use them to organize tools and supplies like nails, screws, hardware, and paint cans.
2) Set Up Racks
Build simple wooden racks for your items by laying boards across sawhorses. Use hooks or nails to hang tools, rakes, umbrellas, and more. If you have a lot of space, build several towers.
Label them with numbers or pictures so you can easily find what you're looking for. If wood isn't an option, try using PVC piping instead; it's lightweight but still very sturdy, and you can create any kind of shape or size depending on your storage needs.
3) Hang Baskets
Hang a string of baskets on a bare accent wall in the garage. These are useful for smaller items, such as kid's toys, hardware, and nails. Just about anything you can store in a closet can be placed in these hanging baskets. It's an easy way to keep these things from being forgotten or getting damaged by moisture in your garage.
It also keeps them out of sight so they don't take up valuable floor space that you might need for other things, like cars or toolboxes.
4) Use Trash Cans
There are a lot of benefits to using trash cans in your garage. Trash cans can hold extra screws, nails, and other materials that you need for projects in your garage. Use a large plastic bin as storage for paint cans and other supplies. Use smaller buckets with lids on them for small tools, hardware pieces, screws, nails, nuts, and bolts.
5) Keep It Fun!
Sometimes you don't have time for a full-scale garage overhaul. Instead, focus on organizing one small area of your garage at a time, so it doesn't feel like such a daunting task. Start with whatever area is causing you to lose hours searching for items, such as a cluttered workbench or an overstuffed toolbox. Make it fun! Invite friends over and let them pitch in.
Photos of organized garages
People love to see before-and-after shots of projects like these, so be sure to take some clear photos of your garage before you get started. These can also give you an idea of how much space your new organization will take up in your garage ideas.
How to organize a messy garage
It doesn't take much effort or cost a whole lot of money to get your garage in order. There are plenty of ways you can keep your garage organized without breaking your budget, but it takes a little bit of planning and some small investments. If you can divide these tasks among family members or friends, even better the work will go quickly.
The most important step is deciding what areas need attention first: It may be that one shelf needs reorganizing or that you need more storage containers for screws. Remember, organization means different things to different people: Consider keeping larger items (like sports equipment) off-site in a climate-controlled storage unit instead of cluttering up your home. To get started, try out one (or all) of these cheap garage organizing ideas
Genius garage storage ideas
If you have a garage, you're lucky. Don't let it go to waste. A well-organized garage not only allows for more convenient storage but also makes your home much safer and a lot less cluttered.
It's no small feat though: what do you do with all of those tools? These five garage tips will help inspire and guide you as you create your own DIY organization system. Inexpensive or free with a little bit of elbow grease!